Back in December, we posted a blog titled, Tree Care Safety – First, Last and Always!, and we weren't joking. When you are in our line of work, safety must be a top priority. Our daily tasks require us to be very high off the ground, we spend time working in diseased and/or pest-infested trees with brittle and unstable branches, we cut branches off old-growth trees that are larger than some full-grown trees. Our work is dangerous – and safety practices are an essential part of our every move to ensure we keep our clients, their homes and our staff safe and happy.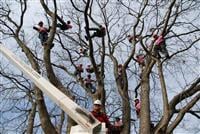 We would guess that Joshua Tree has some of the highest safety standards in the nation. We don't just say we put safety first, we actually do it. In my 24-years of industry experience, I'm fortunate to say that I have avoided the unpleasant effects of hazardous situations on a daily basis as the result of my in-depth safety training – and my great respect for what I learn.
The Best Certified Arborists Have a Safety First Work Culture
See, some guys scoff at the word "safety." They attend safety meetings so they can report their "certification" to the OSHA inspector, but that doesn't mean they integrate what they learn on the job. This leads to smart, trained professionals who risk themselves and their crew to the unavoidable. Unfortunately, those guys inevitably end up with close calls that whip them into shape (best case scenario), with life altering injuries to them and/or their crew members (common scenario) or on the obituary pages of their local newspaper (worst case scenario).
I was fortunate to begin my career with a boss and firm who took the Safety First motto to heart, and they enforced this motto on the crew members. While many things have changed in the tree care industry in the last 24-years, safety continues to remain the Number 1 priority for me and my team.
Check and Verify Your Arborist Certifications
Continuing to follow the tenets of a safety culture is very important to me, and it's very important to my clients (it's their homes, children, pets and selves at risk too, ya know!). As proof of our attention to safety and continued training, the Joshua Tree employees hold a wealth of certifications that they rely on every day to get the job done as knowledgeably, sensibly, carefully and safely as possible.
These certifications include:
Certified Arborist

. This means an individual has more than three years of full-time experience working in the tree care industry, and that they have passed extensive examinations covering all manner of topics pertaining to trees, tree care and arboriculture.

Certified Tree Care Specialist. On the way up the ladder to becoming certified arborists, our crew becomes certified tree care specialists. This is a special certification through the Tree Care Industry Association and ensures they have a working knowledge of tree biology, tree trimming, transplanting, lighting protection, cabling and bracing, plant health care and – of course – SAFETY!
Electrical Hazards Certificate. Whether above ground or below, tree canopy and root care brings us up close and personal to utility lines, many of which transmit thousands of volts of electricity. Our Electrical Hazards Certificate ensures we know how to work safely and in cooperation with local utility companies to prevent unnecessary hazards or power outages.
First Aid and CPR. Every year, we get to stop by our favorite donut shop, pick up coffee and some morning treats, and head to a Red Cross First Aid and CPR certification course so we are refreshed on what to do in case of emergency. We're sure glad we have because even the tenets first aid and safety change over the years (if you're still planning to give CPR with the 15-2 breath/compression ratio – you're in need of a refresher yourself!)
PA Commercial Applicators License. The pesticides and herbicides we use are toxic, and should be used with respect and restraint. These courses teach us about the various products on the market and best practices for using and storing them. As well as our legal responsibility to register them when necessary.
Tree Climber Specialist. It's one thing to climb a 12- or 14-foot tree, but what about when we're 30-, 40- or 50-feet up in the air. That's nothing to take lightly and it requires a bit of education to learn the proper techniques for using climbing gear, safety harnesses and tricks of the climbing trade.
Tree Risk Assessor. We sure don't want to cut limbs or remove a tree if we don't have to, and we sure don't want to avoid cutting limbs or removing a tree if we should have. The Tree Risk Assessment courses, hosted by the International Association of Arboriculture, teaches us how to assess trees to determine their health, benefits and longevity – and how to determine which actions will help to preserve all three.
Aerial Lift Specialists. Aerial lifts been a huge safety helper for our industry. However, they come with their own risks as well. The last thing we want is for the lift to tip over while it's extended with one of our employees in the bucket, nor do we want to tangle it up in power lines or healthy tree branches. Aerial Lift Safety Certifications teach us everything we need to know about lifts and lift safety.
Are you looking for an arborist who specializes in safety? Make a few calls to your Top 3 considerations and see what certifications and licenses they hold. We can bet that Joshua Tree is up there with the best of them, and we'd love to be of service. Contact us to schedule your free consultation. 610-365-2200.