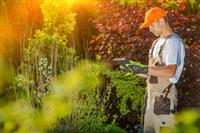 If you've ever studied Thomas Jefferson, you know he kept unbelievably detailed journals, diaries, and records about everyday life. Jefferson maintained extensive tree and garden inventories at his famous home, Monticello, and these records were used as living manuals for what worked, what didn't and what could be done better to care for the estate's beloved landscape.
While we can't say we are quite as meticulous in recording the everyday minutia as the late President Jefferson was (it's a rare human who can claim that), Joshua Tree does put significant time and effort into creating, maintaining and updating accurate records regarding each and every tree we come into contact with in our line of work.
These records are integral to the health and longevity of our clients' trees, and are referred to in our industry as tree inventory lists.
Maintaining a Tree Inventory is an Integral Part of Tree Health & Longevity
A tree inventory has several goals, including:
Historical and systematic data collection about individual trees in a community – be they private, residential, or public.
Identification of trees by species.
Establishing the estimated age for each particular tree.
Differentiating trees by location on a landscape (street trees, lawn trees, peripheral forest trees, etc.), which better identifies tree-specific stresses or lifestyle differences.
Tracking plans for how individual trees can perform their best in their particular landscape/location.
You are welcome to collect all this data on your own, but some details are more difficult to come by than others (most homeowners who didn't actually plant the tree can't accurately date mature trees, for example). By working with a local arborist, you can have a tree inventory that is created and managed for you.
Are you interested in learning more about the trees and shrubs on your property? Give us a call her at Joshua Tree. 610-365-2200. Our professional tree inventory will be maintained with each and every visit.
From this record, you'll be able to know:
Which tree or shrub lives where. Over time, this information will become rote for you. Until then, it's handy to have a map of your landscape with shrubs and trees identified for you by genus, species and common name. We're always available to help you, via membership in our plant healthcare programs or by on-call appointments to treat individual trees as needed. In the meantime, this specific list can be used while you research tree- and shrub-specific care recommendations, threats, and treatments online.
Information tracked in your tree inventory helps you take better care of your trees and shrubs, and also helps you feel more comfortable and "in-the-know" when you're speaking with one of our team.
Knowing how big things will grow. Sometimes, our first visit to a property results in some serious tree or shrub relocation. Trees and shrubs have various DBHs (diameter to the trees by breast height), canopy widths and root spreads throughout their life cycles. Did you know most trees have a root system that spreads as broad as their canopy? This information is important when it comes to diagnosing potential tree issues, treating them, or planning future changes or additions to your landscape.
Understanding where trees are in their lifecycle. Just as people are more prone to certain physical ailments or diseases at different stages of their life, tracking a tree's lifecycle provides crucial information as we assess what's going on for the tree in a given year. For example, knowing that a group of Kwanzan Cherry trees at the west side of the property was planted in 1994 helps your arborist detect some of the abnormalities or potential issues that they are facing today.
Creating and maintaining a detailed tree inventory list is one of the best things you can do to protect and promote the health of your trees and shrubs with each passing year.
Interested in establishing an accurate inventory of the trees on your property? Contact us here at Joshua Tree. Our first consultation is always free and we can discuss the short- and long-term ideas to keep your canopy's foliage lush and green for years to come.