If you're searching for affordable lawn care in Allentown or Lansdale, PA, chances are, it's because you don't want to get ripped off. You might not know what's a reasonable rate or how much you can expect to pay—and you don't want to end up choosing a lawn service that ends up taking advantage of your uncertainty.

Frankly, we understand where these concerns come from. The lawn care industry has gotten a bad rap, largely because of various scams and gimmicks that they've used to reel customers in. That has made people uncertain about lawn care pricing or potentially being overcharged.

This frustrates us just as much since it gives our industry a poor reputation. It's why we've written numerous articles, including this one on how much lawn care costs, so that you can be an educated consumer and not get taken in by a scam.

In this article, we're putting together some tips on how to find an affordable lawn service so that you are happy with the pricing, the service, and the results. After all, we don't believe you ought to compromise in any of those areas.
Affordable Lawn Service vs. "Cheap" Lawn Service
First and foremost, before we go any further, it's important that we define "affordable," because that's obviously going to mean different things to different people. When we say "affordable," we're really talking about "fair." Whenever you pay for a professional service, you want a fair price. You don't want to be scammed into paying more than it's worth—but you probably aren't looking for something cheap.

The word "cheap" implies low value, which you probably equate to poor service and poor results. After all, as with anything in life, you get what you pay for with lawn service.

That means these are some tips on how to find affordable lawn care services, meaning services that are priced fairly for what you're receiving (both from a customer experience perspective and a results perspective).

If you're someone who is shopping on price alone or truly out to find the cheapest service in the market, then this article probably isn't going to help you very much. But we'd also offer a word of warning that shopping on price alone generally does not set people up for success.

Now that we've clarified that definition, let's look at some tips.
1. Take Some Time to Understand What You're Getting for Your Investment
One of the best tips that we can offer in your quest for affordable lawn care services in which you'll be paying a fair price is to look into what you're going to "receive" for your investment. We'll be honest, companies don't always make this super cut-and-dry for you and it might require some digging (or asking some questions) on your part.


We're always upfront in saying that we're probably not going to be your least expensive quote. But we're not always as far off as some people assume. For instance, one thing that we've run into before is that a lawn care company that appears less expensive than us at the onset actually has a less comprehensive program. Certain additional services that you might think are included are actually a la carte, meaning you'll need to pay more for them.

Joshua Tree aims to be incredibly transparent about what is included in our lawn care packages so that you can see everything you'll get for the price that you pay. While there are a lot of companies that aren't going to spell out everything you're receiving for investing in their lawn care services, this does give you something to "go off of" as you compare one company to another.
2. Understand What Goes Into Lawn Care Pricing
We will not go into a tremendous amount of detail about this point because we have written an entire article on it, which you can read for more information. However, it's important for you to know that not all lawn care companies are created equally and there are reasons why one company might cost more than another.

To us, it boils down to "value."

One company might cost a little bit more than another, but you might be immensely happier with your lawn care results and the overall customer experience you have. They might be more reliable, more responsive, and offer overall better results because they use higher quality products and better-trained people. With all of that in mind, paying a little bit more money suddenly becomes entirely worth it.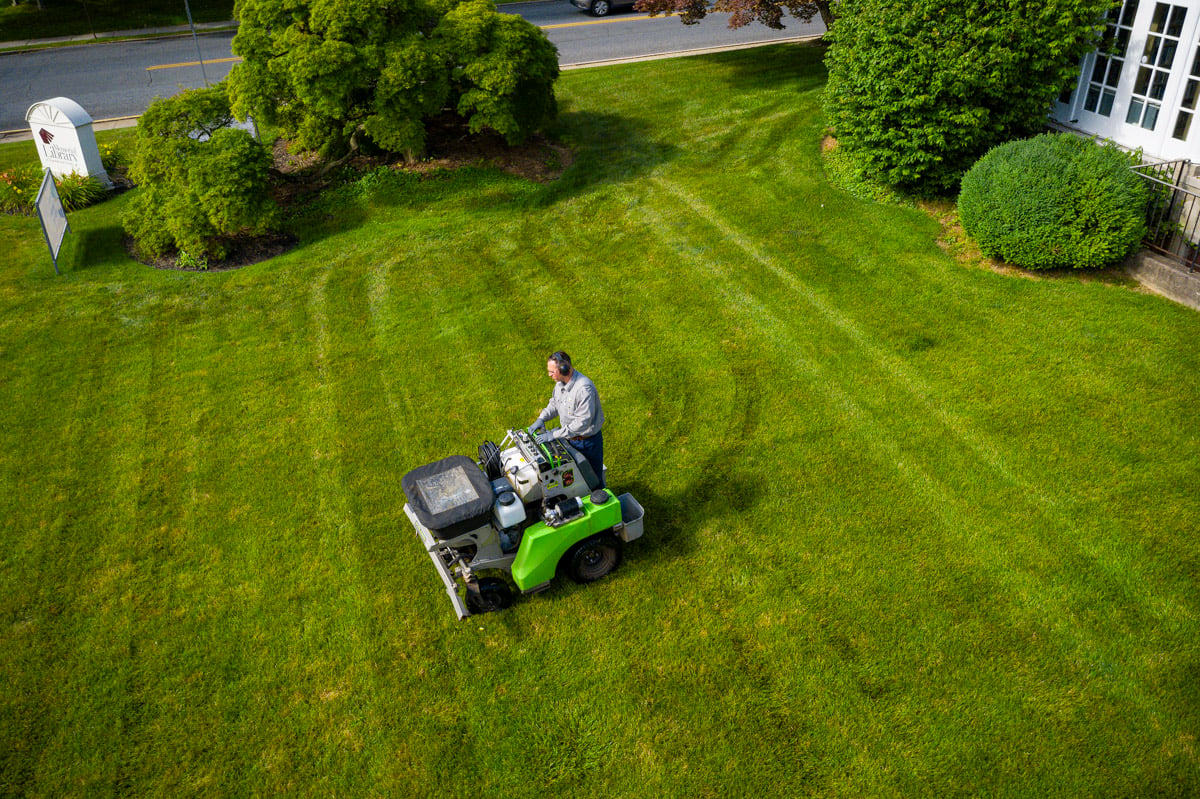 3. Avoid One-Size-Fits-All Lawn Care
As you seek out affordable lawn care, we'd also advise you to avoid any program that tries to lump all lawns together. This is typically setting people up for unhappiness because the truth is, no two lawns are the same. Even your neighbor's lawn could be entirely different than yours.

On top of that, expectations can vary, too. For instance, while your neighbor might be okay with a good looking lawn that isn't experiencing any major problems, maybe you want something even more impressive than that.

These reasons are why Joshua Tree has packaged its lawn care services into three different programs at varying price points so that you have options. You might want more or perhaps fewer services than your neighbor based on both your lawn's needs but also your expectations and goals for your lawn.
Making Your Wise Choice in Affordable Lawn Care
At the end of the day, as an educated consumer, you'll be able to make an affordable, fair-priced choice in lawn care services. That's really important when it comes to not getting scammed—or even simply not falling for the "price game." You now know that your choice in lawn care services in Allentown or Lansdale, PA goes beyond price. When it comes to finding a service and results that you are truly satisfied with, you understand that you can't shop on price alone.

Of course, we know that there are plenty of lawn care companies out there that would prefer you weren't "clued in" to their secrets. They can make a lot of marketing noise but you know better and that can make all the difference in the world when it comes to researching and ultimately choosing the lawn care company that's best for you.

If you're considering hiring a professional for your Lansdale or Allentown, PA area lawn care needs, and have more questions, we're here for you! Get in touch with us to get some free expert advice and learn more about our lawn care program options.