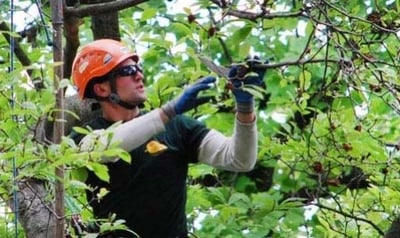 Are you an experienced tree climber in the Allentown Bethlehem, or Easton, PA area and looking for a new job? Maybe you're unhappy where you currently work (or were unhappy somewhere you just left). Perhaps you didn't have the quality tools you needed, no one seemed to know what they're doing, or you just felt under-appreciated.
Unfortunately, that seems to be fairly common in the tree care industry. We've heard many of these complaints expressed as tree climbers have found their way here.
Or, maybe you haven't worked in the industry yet but you're highly motivated. You're looking to start out in the field and have considered tree climbing jobs as something you might enjoy. Of course, you might have also heard some of the negative stories that come along with this type of work when a company doesn't offer its people the best.
We know you need to find a great place to work. The last thing that you want is to feel as though you need to look for a new job every few years. You ought to be able to find a tree service that you want to stay with where you can make good money and be truly content to stay. You may be wondering if such a thing is possible.
We're here to tell you that it is.
A Commitment to Safety with
Tree Climbing Jobs
We know that there are a lot of things that sets Joshua Tree apart from other tree services in our area but one of the big factors is our commitment to safety. In our opinion, it's impossible to talk about tree climber jobs without addressing safety.
We recognize that tree climbing can be a dangerous job and that you want to feel confident that all of the necessary precautions are taken before you're in the field. You want to know that you're working with good equipment which won't malfunction, that the team you're working with is also well-trained, and that the company you're working for actually values safety and will do what it takes to always keep team members safe.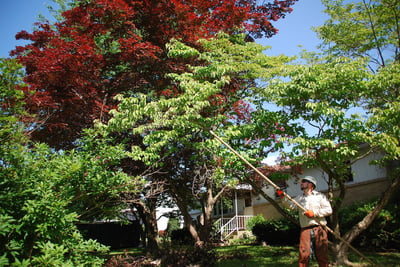 At Joshua Tree, safety is paramount to everything we do. We offer safety bonuses for tree climbers who are doing a great job. We also host regular safety meetings and offer ongoing training to ensure that everyone in the field really knows what they're doing. Whenever there's a concern, we address it immediately.
Our team members tell us that our commitment to their wellbeing is obvious. We've received feedback from the team saying that they've never seen such a strong commitment to safety or that it's unlike other places they've worked where safety isn't so valued.
Steve Paepke, a tree climber with 23 years experience (12 of which have been with Joshua Tree) says that "Joshua Tree holds a higher standard than most companies."
"That's obvious even just looking at some of the other tree services," Steve says. "They drive by with equipment that should have been retired years ago. Or, I've seen tree workers out there with no shirts on and no hard hats. That's not perceived very well by the public. At Joshua Tree we wear uniforms and we have all the safety equipment. Of course, we don't just look like a safe company—we really are one. And that's what matters."
Micah Lichtenwalner, another tree climber here, has also expressed that Joshua Tree holds a high standard when it comes to safety. This has actually been Micah's first job in the industry and he knew going in that it could be dangerous work. But that's why he appreciates working for a company that he feels will keep him safe.
"Safety comes first here," says Micah. "The philosophy at Joshua Tree is that you can never sacrifice safety for speed. Josh ( the company owner) would rather the job took a little longer and all safety precautions were followed than rushing through the job just to get to another one sooner. There are no compromises on that. It shows through with the way that employees are trained. I've heard that this is not the norm in the industry so I'm incredibly glad I came to work here."
Embracing Education
In addition to being committed to safety, we also strongly embrace education. The two go hand-in-hand. We believe that a well-educated and well-trained employee is also a safer one.
Owner Joshua Malik states, "One of our biggest objectives here at Joshua Tree is to build highly professional crews. It's part of our culture. We want Joshua Tree to be a place that is known for having the very best employees around and we think that all comes back to education."
Among their educational goals, Josh wants all of his people to understand the physics of tree care. "That means they don't just want them to understand how to safely remove a tree, but we also want them to know how to care for it. We want our people to know when a tree might be able to be saved and when it absolutely has to go.
To know all of that, we want to make sure that they're educated on everything from proper pruning techniques to how various insects and diseases are going to impact a tree. What can you expect for the future of this tree? What other factors are going to impact its health? How will the relationship between the water and the soil work toward good tree growth and development?"
We want our crews to be able to answer these questions and more. That's why we're constantly not only looking for qualified people to fill tree climber jobs but also tree arborist jobs.
"Around half of the company's employees are Certified Arborists," says Steve. "You're not going to find that at every tree company. That's because Josh pushes us to learn more. He encourages us to go after those certifications and get more education. Most companies don't care about all that."
"At Joshua Tree, education is highly valued," Micah agrees, adding that he received his ISA arborist certification after coming to the company. "Josh wants to make sure his team members are knowledgeable so he's invested a lot in education through courses and training."
A Team You Can Trust
One of the biggest benefits of our commitment to safety and education has been that it's led to a positive work environment. One thing that people coming from other companies often tell us is that we "get it." And that makes a big difference for them work-wise. With 20+ years in the industry, we know what we're doing.
Unfortunately, when a company doesn't fully have the know-how, it can hurt everyone. In fact, it can even put team members at risk.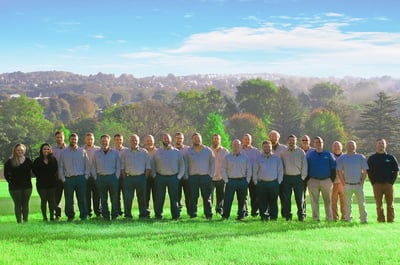 "When you're working with inexperienced tree climbers who haven't been trained well, it's a serious risk," says Steve. "When somebody makes a mistake, it could mean you could be injured or even killed. Because of that, you really have to be able to trust your team. Here at Joshua Tree, I feel comfortable putting my life in anyone's hands. Every team member is well-trained and qualified to be out there. You won't find that at a fly-by-night company that just want to get the work done and they don't really care who's doing it."
We have also interviewed employees who have told us that previous companies they'd worked for weren't able to offer steady work or pay. Oftentimes this was the result of frequent underbidding. Perhaps there was a salesperson who just didn't really know the industry. They would underbid the work just to get the job. But that often leads to safety errors and rush jobs to try and beat the clock.
We've also heard from people who have said their previous jobs "lacked direction." They didn't even know what to expect from day to day.
But that couldn't be further from the truth here. Micah calls it a "well-oiled machine" because the operations flow so seamlessly.
Crews come in here in the morning and they know exactly what they're doing that day. They know which pieces of equipment are going out and which job they're headed to. We have many employees who have been here for many years and they know exactly what they're supposed to be doing. They take the newer team members under their wing and help show them the right way to do things.
We have found that when new team members come to us from a previous job, they may have picked up bad habits that, frankly, are wrong. We want to emphasize: There is a wrong way to do tree work. We're understanding if new employees are making mistakes because they were never taught the right way but we also aim to fix that immediately.
"I'll admit that there were some techniques I didn't know, like proper pruning, and others that I had to re-learn because other companies hadn't done them the same way," says Steve.
A Positive Environment
While there's no question the team here works well together, they also like hanging out. Micah says that he appreciates the camaraderie of the team atmosphere at Joshua Tree.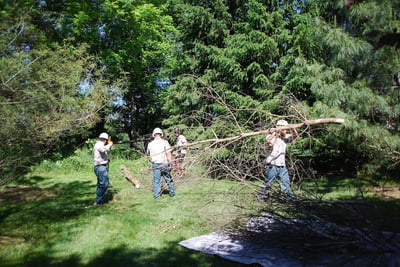 "It's a great group of employees that work really well together," Micah says. "I feel like I've learned so much along the way. The team members who have been around here a long time are more than willing to help when it's needed. There isn't competition or rivalry, it's just a team feeling. There's a great chemistry to how we all work together and it shows since people stick around here. In an industry that's known for people leaving, employees of Joshua Tree stay."
Steve agrees.
"To be quite honest, I love working here," he says. "It's a great company and a lot of that has to do with the people. Everyone gets along and works really well together. It's not the image that you normally see or think of with a tree care company."
Actually, we think that tree care workers tend to get a bad rap. They are not always perceived in the best light by the general public. Those perceptions often come from the fly-by-night companies that don't hold their people to a higher standard. They let them work in the summertime without a shirt or go without a hard hat. But that's not us. We think tree climbers are some of the hardest working people out there. We highly value tree climber jobs here at Joshua Tree and are looking to change the public perception.
A Great Work/Life Balance
While working hard and being committed to the job are important qualities, at Joshua Tree, we also appreciate that having a healthy work and family life balance is key to overall happiness. Micah says that he appreciates that he works for a company which values his time.
"I also really appreciate the fact that Josh is there for anything we need," he says. "He's easy to talk to."
The truth is, we have always felt that it's vital that employees have time for their families. After all, family life is important and we would never want an employee to miss out on something important in their life because of work.
Finding
Tree Climbing Jobs
and
Arborist Jobs
in Allentown, Bethlehem, and Easton, PA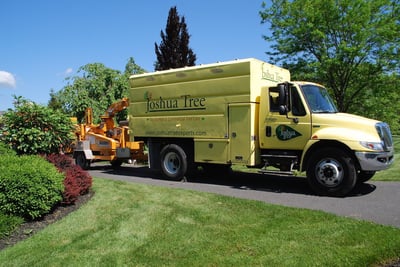 If you're searching for tree climber jobs in the Lehigh Valley, we hope that you'll add Joshua Tree to the top of your list. We feel that above all else, we want people who possess a strong work ethic and are motivated to learn.
Micah says that people will find this is a job where they can grow.
"I think a key reason that people stick with Joshua Tree is that there is so much room to grow here," Micah says. "You'll be supported in your efforts to further your education and advance your role within the company. That makes it a great place to work."
Want to learn more about what a tree climber and arborist career with Joshua Tree can mean for you? We value our
growing family
and would love to answer any questions you may have.