Question: What do you get when you mix great party, a roaring fire pit and a dry landscape?
Answer: Serious fire risk!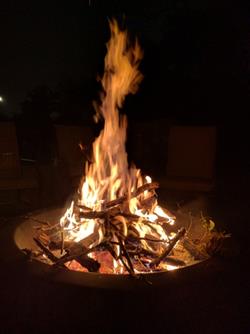 This time of year, things can be pretty dry. We recommend taking a walk about your property and viewing your turf, trees and shrubs with the discerning eye of the arborist and lawn care specialist. When your landscape is dehydrated, it's bad for the plants, but it's bad for the people too.
Dehydrated landscapes make homeowners more prone to late summer fires.
Signs of dehydration include:
The tree looks like it's dying from the top down, or from the outside to the inside
The leaves are wilting
They aren't growing or budding like they used to
Sections of the plant, tree foliage or lawn appear yellow and/or brown rather than a vibrant green.
The drier your landscape is, the more prone it is to fires- whether that be from late summer thunderstorms and accompanying lightning, or errant sparks from a fire pit or BBQ. Even a stray ash from a cigarette can start a fire pretty quickly if you aren't careful.
Fire Safety Tips for Both Outdoors and In
In honor of this dryer part of the summer, we want to give you a few "Summer Fire Safety Tips" to think about as you make the most from the rest of this outdoor season.
Keeping your landscape hydrated is one part of the equation. The rest relies on you, your family and a healthy (safety-conscious) dose of common sense.
Be Smart with Those Leftover Fireworks
The American Academy of Pediatrics has fireworks listed as the one of the most important fire hazards to be wary of. About 230 people wind up in emergency rooms every summer around the July 4th holiday, and they continue to straggle in as children and adults use up the leftovers. Check out the Consumer Product Safety Commission's Firework Safety Page to make sure your family observes best practices. Never leave children unattended with fireworks, and make sure the fireworks are secured safely when you're not around.
Extinguish Fire Pits and Campfires Completely Before Leaving Them Unattended
It's amazing what just a breeze and an ember or two can accomplish. That's why it's so important that every fire you light - whether it be your backyard fire pit or a backwoods campfire – is extinguished completely before leaving it unattended. Before you light the fire, make sure the area is cleared of all dead grass, twigs, debris, low hanging branches and anything else that is flammable. Make sure your children and pets keep a healthy distance away from the fire – and never leave it burning unattended. You should always have a bucket of water or sand, and a shovel handy in case the fire gets out of hand. Covering a fire and its embers with sand is the best way to keep embers from oxygenating or getting out – and preventing the threat of a wildfire.
Make Sure the Entire Family is Up on Their Lightning Safety
Do your children know what to do if they're caught outside during a summer lightning storm? It's a good idea to have a lightning storm protocol for the entire family in case a storm catches your children while they're playing outside, and without you there to protect them.
When you hear thunder you should;
Look for shelter in a home, hard-topped vehicle (with doors and windows completely closed) or a large building as soon as you can.

Never seek shelter underneath a tree.

Stay away from windows, doors and porches as these areas of the home and/or building are not grounded and electrical currents can flow to you in an effort to make their way to the ground.

There is really no safe space outdoors so the goal is to find a friend, public officer or nearby business owner who can provide shelter until the storm has passed.

Call 9-1-1 Immediately if a person is struck by lightning.
If you are indoors during a lightning storm, you should not use plumbing or electrical gadgets that put you in direct contact with electricity or water while lightning is a threat.
Keep Your Summer Memories Positive and Fire-Free
Summertime is one of our favorite seasons and the one where some of the most amazing family memories are made. Don't let an absent-minded moment give you a memory you'd rather forget. Be diligent and practice best fire safety tips to keep your family safe this summer.
Joshua Tree wishes you and your family the very best during these last, fleeting moments of the summer season.