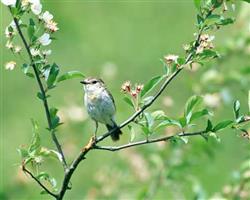 Hang in there, everyone. Spring is about to be sprung! Can you believe it's already time to set those clocks an hour forward (Sunday, March 13th, at 2:00 A.M., to be exact…)? While the members of our household aren't huge fans of losing an hour of sleep, we are certainly fans of the returning sunlight. And, we aren't the only ones who appreciate it.

Our crew is already taking note of the emerging leaf and flower buds, and some of you may already have a few blooms in the warmer, sunnier patches of your landscape. For those of us who make a living in the tree and lawn service business, the return of sunlight, buds and blooms are important cues, reminding us it's time to get to work.
3 Keywords for Spring: Fertilize, Prevent & Maintain
Really, it all comes down to three keywords during the spring season – fertilize, prevent and maintain.
Fertilize. This is the time to fertilize your lawn. The sooner you do it, the more nutrients will be absorbed by the soil and the more vitamins and minerals your lawn will have access to as it sends up its new, lush foliage. You can apply this same tenet to the soil around your trees and shrubs. It's been a long cold winter, and your trees and shrubs are hungry. Freezing temperatures cut them off from underground water supplies, which means they're probably thirsty too. If you take care of your lawn, shrubs and trees as they wake up from their winter slumber, they'll take care of you for the rest of the year by providing shade, cooler outdoor and indoor temperatures, as well as colorful foliage and blooms.
Prevent. As long as you're out there fertilizing your lawn, make sure to use products that include crabgrass pre-emergent. Crabgrass is tenacious. Once it sets up shop in your lawn, it's nearly impossible to eradicate because of it's sprawling root network. In fact, even if you remove your crabgrass infested lawn and replace it with new turf, you can still wind up with new crabgrass infestations from latent seeds that have the ability to germinate from as much as 2- or 3-inches below the soil. Using a fertilizer with a crabgrass pre-emergent, will stop new crabgrass from getting too comfortable – eliminating the risk of producing seeds that – in turn - propagate more crabgrass.
Maintain. Maintaining a healthy landscape requires a bit of diligence and maintenance on your part. There are a few ways you can look at the phrase, "landscape maintenance." First, make sure your lawn mowers, weed whackers and blowers have had their annual tune-up. This keeps them working cleanly, safely and efficiently for the rest of 2016 growing season and beyond. Then, take literal maintenance to a proactive level by regularly walking your property and taking a good look at your trees, shrubs and lawns. Do any of them look unusually droopy or unhealthy? Have they been damaged by snow removal equipment? Are they not "springing up" as usual? All of these are signs that a visit from an arborist or landscape professional is in order, so you can identify and correct any problems before the damage goes too far.
Need to take a break from all that fertilizing, crabgrass prevention and maintenance? Then head on over to the AG Hall in Allentown, PA to enjoy the Lehigh Valley Flower Show, which runs from Friday, 3/11 through Sunday afternoon, 3/13. There's no better way to get inspired about this growing season's potential. If you've never been there before, you're in for a serious treat – supplied by the area's most well-known and respected landscapers, designers and merchants. The Lehigh Valley Flower Show has something of interest for every age group. The Joshua Tree team hopes to see you and your family there.