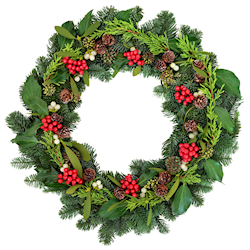 Thanksgiving is just behind us and the holidays are right around the corner. We love that much of the country sees through the madness of seasonal commercialism and is getting back to the local artisan and handmade craft bandwagon when it comes to holiday gift traditions. It's amazing how many holiday decorations and gifts can be made with the natural materials you find right outside your front door – or your neighbor's front door.
This year, we recommend taking a good look at what's growing where in your yard and your neighborhood. Does a neighbor have a beautiful holly bush laden with green berries? Do you have an ample supply of greenery that can be made into wreaths or gardens?
Make Some Cookies and a Thermos of Cider as You Share Your Trees with Neighbors
Here's how we see this unfolding. First, make a batch of cookies and fill a thermos with some cider or hot tea. Then, take a walk over to your neighbor's house.
Neighbor A: Hey, happy almost holidays. I brought you some cookies a and a swig of cider and wanted to discuss some tree bartering with you…can I cut some branches from your white pine tree?
Neighbor B: Um, yeah, I guess so. And, thanks for the cider… but, um, what the heck is tree bartering? And why do you want a bunch of tree branches, anyway?
Neighbor A: Well, white pine branches work really well for wreaths and garlands, so the kids and I were thinking we could make some for our front door, staircase and rails. You're welcome to come over and learn how if you'd like.
Neighbor B: Wow! That's a great idea. Come to think of it, I've always admired that mature maple you have growing in your front yard and would love to trim a few branches for our entryway vase next fall. And, say! I noticed you removed that gorgeous white birch last month. If you're willing to give up some of the beautiful white trunk pieces, I'd be happy to make you something out of it as well so your family has something to remember it by…
And that, our Joshua Tree friends, is what tree and landscape bartering is all about.
Our clients keep the phones busy this time of year, asking if we have any usable greenery and wood scraps laying around. While we're happy to help when we can, we bet you can find fresher and more usable materials right in your own backyard – or nearby.
Holiday Decoration and Give Ideas Made From Your Neighborhood Landscape
We have dozens of holiday decoration and craft ideas that you can easily make on your own, the large majority of which can be found and gathered during a single walk around the block. Here are some of them with brief descriptions and a link to more detailed instructions. (Pssst. Here's another hint: tree bartering can be a great excuse for helping a neighbor deal with overgrown branches or a pesky tree that they wouldn't have fixed otherwise.)
Holiday wreaths. Holiday wreaths are easy to make on your own. By making them yourself, you can customize and personalize wreaths to fit your home's style or to suit your family's character. Here's a great video demonstrating how to make a holiday wreath using greenery and natural materials.
Garland, garland and more garland. Seriously, once you get the hang of how to make them, and you master the art of the perfect bow, garlands become addictive. They're such an elegant and graceful addition to your front porch, arbors, staircases and large entryways and they keep that seasonal scent of evergreen wafting around your home. Click Here to watch NYC florist, Emily Thompson, whip together a magazine-worthy garland using pine boughs in less than two-minutes.
Birchwood ornaments and/or gift tags. Birch wood is ethereal and enhances any winter design scheme. By cutting Birchwood branches into rounds, you can make beautiful holiday tree ornaments and decorations for your home. They also make wonderful homemade gifts when attached to presents as a gift-tag-turned-ornament for the recipient. We think these Birch rounds would also look great as personalized place cards for the holiday table. Read Design Mom's blog for instructions on how to make Etched Snowflake Ornaments in Birch.
Do you have a favorite means of turning neighborhood greenery and leftover wood pieces into beautiful decorations or gifts? We'd love to hear your ideas in our Joshua Tree comment box below.