Are you someone who is thinking about looking for jobs in lawn care?

Whether you're from within the industry or you're thinking about switching careers, you might be looking for some more information about a lawn care career choice. What makes it a good career option and is it something that you should pursue?

To help you explore your options, we're talking about reasons you should consider jobs in lawn care in Lehigh Valley and Buxmont, PA.
1. Jobs in Lawn Care Mean Spending Time Outside
One of the most rewarding aspects of a lawn care job is that you get to spend time outdoors. Instead of being pent up in a cubicle or somewhere inside, you get to be in the fresh air, spending time out in nature and beautifying clients' lawns.

For many folks who are looking for a change, that's one of the most appealing factors. They are tired of staring at a screen or being stuck inside all day. With a lawn care job, they no longer have to be!
2. Jobs in Lawn Care Offer Appealing Hours
If you've worked a job in the retail or hospitality industry—or maybe even a job where management didn't respect your time—then you'll be pleased to know that lawn care jobs have very reasonable hours.

Instead of having to work nights, weekends, and holidays, with the right lawn care company, you'll find a career where your work/life balance is respected. That means you'll have plenty of time to spend with your family and friends or enjoying hobbies and leisure time outside of work.
3. There are Opportunities for Growth with Jobs in Lawn Care
At a growing and successful lawn care company, there should also be opportunities to climb the career ladder. While you might start as a lawn care technician, if you demonstrate a willingness to learn, there may be the chance to work your way up to other roles.

That's the case at Joshua Tree, where we prefer to promote from within. We are continuing to grow and expand and with that comes the opportunity to grow with us. If you don't wish to remain stagnant in your role, we will show you how you can climb the career ladder.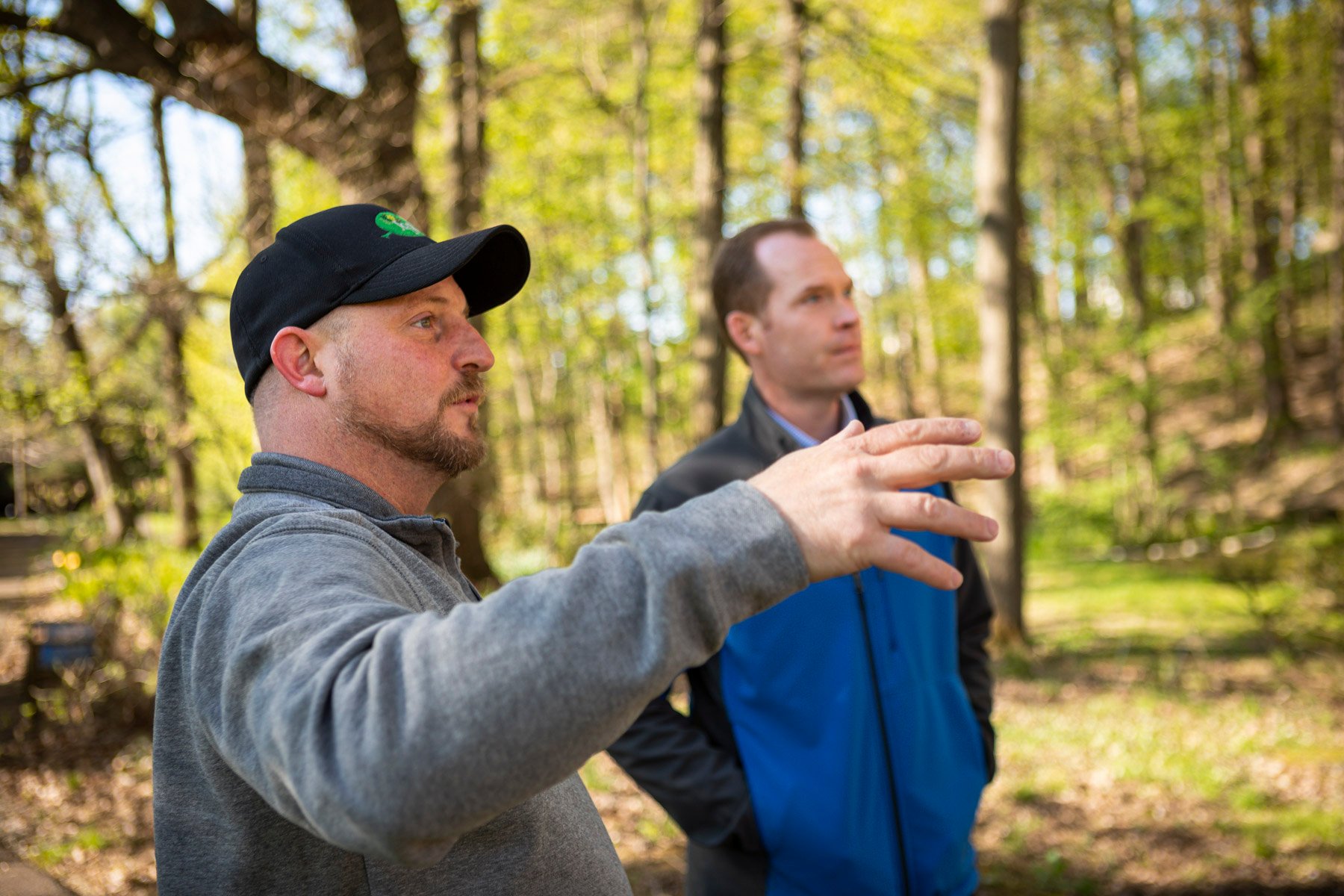 4. Jobs in Lawn Care are Rewarding
While this aspect of the work doesn't get talked about as much, the fact is, working a lawn care job gives you the chance to make a difference in peoples' lives. Helping to create lush and healthy lawns makes people happy—and that's a great feeling. It can also be really rewarding to help clients troubleshoot and solve their problems.

Lawn care technicians also love the fact that they can physically see the difference they're making. It's really gratifying to watch a lawn transform from subpar to spectacular thanks to the work you're doing.

It's also rewarding to hear happy customers rave about their amazing results and your service.

In fact, at Joshua Tree, we reward our team members with $10 in points (which can go toward purchasing company gear) for every shout-out that they receive for their great work.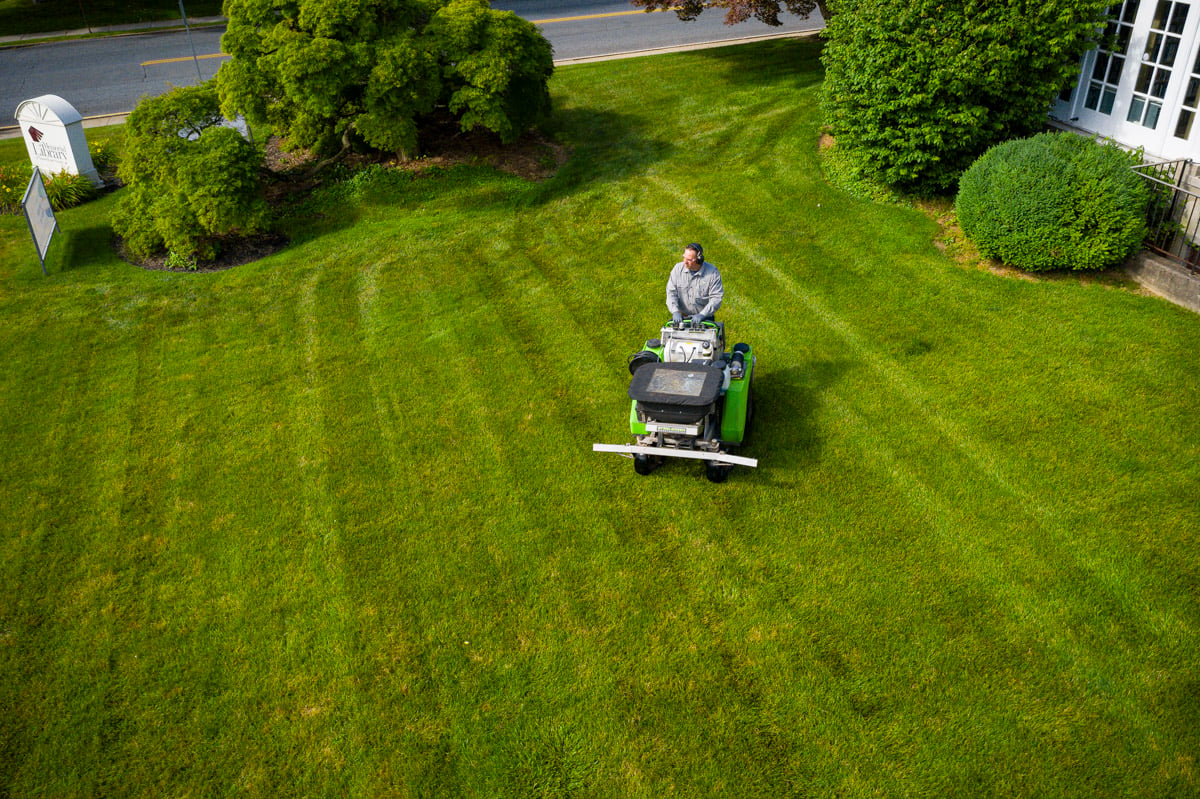 5. Jobs in Lawn Care Can Be More Than Just Jobs—They Can be Careers
While some people might imagine a lawn care job as a temporary "placeholder" while they look for something else, that doesn't have to be the case at all. Lawn care jobs can actually be lawn care careers, from which you can support yourself and your family.

Of course, that's all contingent on choosing the right lawn care company. Not all lawn care companies necessarily care about their employees turning the job into a long-term career.

At Joshua Tree, we offer highly competitive wages with opportunities to earn referral bonuses and sales commissions, too. We also offer a comprehensive benefits package including medical, dental, and vision coverage, as well as voluntary life insurance.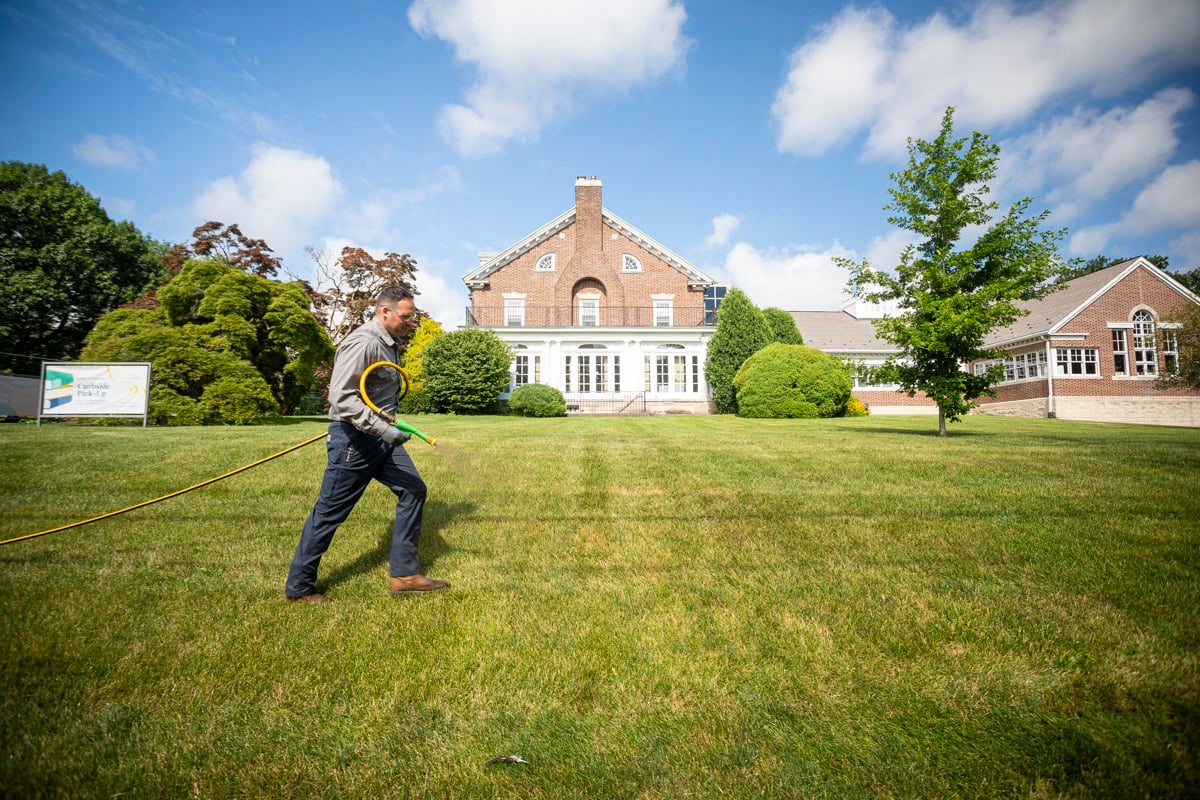 On top of all that, we have an abundance of employee perks and incentives that make Joshua Tree an amazing place to work. These include everything from paid lawn care services to extensive training to rewards programs and social events.

While these all formulate another reason why jobs in lawn care can be a great choice, the fact is, not all companies are going to offer these perks (or the competitive wage and benefits).

Unfortunately, there are companies that don't treat their employees as well—which is why they often end up with a revolving door of them.
Making Your Wise Choice for a Lawn Care Career
At Joshua Tree, our lawn care technicians are at the heart of the services that we perform in our lawn care company and they are valued members of our team. For that reason, we want the best for them. We are looking to be able to provide long-term career options by making Joshua Tree a great place to work.

We are committed to setting our team up for success by providing the best training, education, equipment, and more. Plus, the role comes with the opportunity to spend time outside, work reasonable hours, make a difference in peoples' lives, and even climb the career ladder.

If you're looking for lawn care jobs in Lehigh Valley or Buxmont, PA, then we invite you to come see how Joshua Tree may be the perfect fit.

Want to learn more about what a career with Joshua Tree can mean for you? We value our growing family and would love to answer any questions you may have.