Are you someone who is looking for lawn care jobs in Allentown, Bethlehem, or Easton, PA? Maybe you are currently working somewhere that you feel undervalued or you already left a position and want to find something better.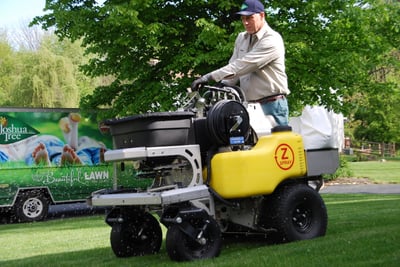 You may be worried that you're going to end up in a place that isn't any better. After all, you might have even heard that all lawn care jobs are the same and that no company really cares about their people.
Unfortunately, we've heard this a lot, too. In fact, we've even heard it from team members who have found their way to Joshua Tree from other lawn care companies where they felt like management "didn't care."
The truth is, it doesn't have to be that way. When it comes to our lawn technician jobs, we value those team members as much as any other. Our owner, Joshua Malik says, "it was important to me when I started this company that all of our team members felt appreciated for the work that they do. Joshua Tree simply wouldn't be what it is without the hard work of the team as a collective."
Team members say that Josh has followed through on that "appreciation" in many different ways. That's what makes Joshua Tree such a great place to work.
A Noticeable Difference from the Start
For many, the feeling that Joshua Tree is different was evident from the very first meeting here. That was the case for Ryan Perl, a lawn care technician who says that when he went in for his interview, he knew right off the bat that this was unlike other companies he'd experienced.
"First of all, I interviewed with Josh, the owner, which was unlike my experience at other companies," Ryan says. "At the time, I was looking at lawn technician jobs at 5 different places and usually I'd interview with a hiring manager. It said a lot that it was the owner to sit down with me and interview me. Then, the first 10 or 15 minutes of our conversation was just chatting and Josh getting to know me—and me getting to know him. That said a lot too. It meant to me that Josh cared about getting to know me as a person, not just someone who could do the job."
Ryan says that he left that interview knowing that if Josh hired him, he would take the job. He says that he could "just tell" that it was going to be a place that was different. On top of that, Ryan says that he felt the position was compensated competitively as well.
"It's a competitive rate," Ryan says. "So, it's not just like it's a great place to work atmosphere-wise, but you have to accept less pay. It's higher compensation than offered by other lawn care jobs. What that says to me is that by paying more, he's really valuing the work that we do as technicians."
Lawn care technician Kelly Myers has also seen that difference that Ryan speaks of. In fact, Kelly comes from a large national competitor so he is able to compare what it's like working for Joshua Tree to what it's like working for a franchise.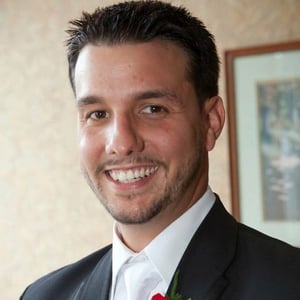 "I think the biggest difference is easily the employee retention rate," says Kelly. "It was something that I was concerned about when I interviewed here at Joshua Tree because of my previous experience. Having worked at a company where turnover was part of everyday life, I was ready for a change. It's something I asked Josh about at our interview and he told me that he has had many of the same team members from the very beginning. That said a lot to me."
Kelly says that one of the things he likes best about working for Joshua Tree is that it's like "working for family."
"The atmosphere here is great," Kelly says. "It's like one big happy family."
A Lawn Care Company that Cares
Both Kelly and Ryan say that another thing about Joshua Tree that is different is how far the company (specifically, Josh) goes to really make employees feel valued. While that's evidenced by things like competitive pay and the low turnover rate, it's also shown in ways that go above and beyond. From team building activities to get-togethers, Josh says that he never wanted the company to just be a place where you "clock-in and clock-out" but that he wants to build a "family culture at work."
"We hang out as a group outside of work and we have fun together," Josh says. "Of course, when we do something fun, employees are still paid for their time. We've taken a team trip to Kalahari, the waterpark in the Poconos and to New York City for a day trip. We've made some really great memories that have also made us stronger as a team."
Ryan says that another way he feels Josh shows how much he values his team is with his emphasis on safety.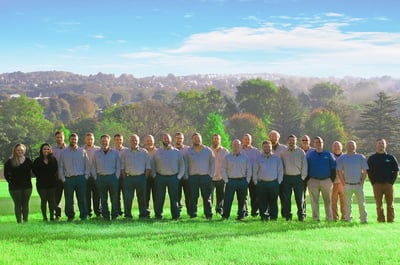 "Every 3 weeks, the entire staff hops in front of a projector screen and we go over a topic that is related to safety," Ryan says. "Sometimes you might think you know everything there is to know about a subject and then you learn something new. That's why it's so important. It's really great that he cares about refreshing us on these topics on a regular basis."
Ryan recalls when Josh told the team he was going to hold the regular safety meeting at a diner instead of the office and then bought everyone breakfast.
"It might sound like a small gesture, but it really showed that he cares about us to do something so nice like that," says Ryan. "Josh also gives safety bonuses and Christmas bonuses and even though I was only here for a few short months when it was time for that, he still included me. He doesn't have to do stuff like that, but it shows that he really cares. That's not something I think you'd see at other lawn care jobs."
Similar to the commitment to safety, there's also a strong commitment to education. Josh says that the two go hand-in-hand as he believes a well-educated and well-trained employee is also a safer one.
"Education has always been really important to me," Josh says. "It's just been part of the culture here from the very beginning. I want Joshua Tree to be known as a company that has the best trained and most knowledgeable technicians in the field and in order for that to happen, there must be a commitment to education."
Kelly says that he appreciates feeling as though Josh challenges him to be better.
"I feel like he's investing in me as an employee and as a person," Kelly says. "He has taken me to seminars to learn more about the business and he's always encouraging me to add to my licenses. He wants me to be better and I appreciate that he cares enough about me as a team member to be focused on that."
A Helpful Guide
Though Josh really pushes team members to always be better, he seems to be able to do it in a way that is encouraging and not restricting. Having come from a large company, Kelly adds that he appreciates Josh pushes him to be better without "micromanaging."
"One of my least favorite aspects of working for such a large company before I came here was the fact that I often felt micromanaged," Kelly continues. "But Josh finds a way to support you without doing that. He's just a great guy and a really great leader."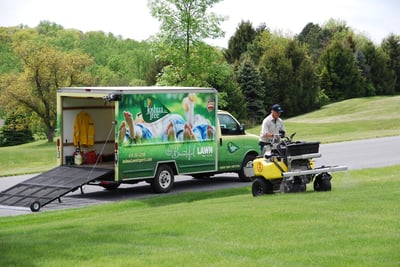 Ryan echoes similar sentiments in that regard.
"Josh leaves it to us to be responsible for getting everything ready every day and getting out there in the field and doing our thing," Ryan says. "He's not telling us what to do but instead giving us the tools we need to do it ourselves. That independence and trust say a lot. Josh knows that we're the front line for the company. The customers see us day in and day out and he lets us handle that responsibility."
In turn, while there's no question that Joshua Tree is a company that puts the "care" into "lawn care" when it comes to lawn care jobs, the team members here say that they do the same thing when it comes to the way they treat customers.
"The first week of my job here, while I was getting trained, I was working with another tech and he kept saying how important it was that we leave a site looking like we weren't even there —meaning it's so important that we clean everything up and really make it look pristine," Ryan says. "I remember thinking how that was a complete 180 from the company I came from, where they never would have cared about that. They were all about quantity, not quality. It aligned with my morals to do the best for the customer and made me certain I'd found the right place to work."
Finding
Lawn Spraying Jobs in Allentown, Bethlehem, and Easton, PA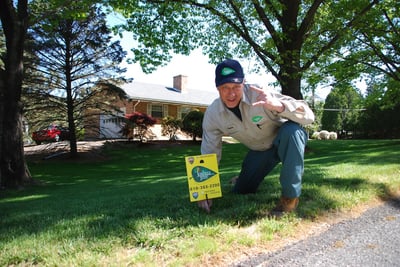 If you've found this article because you're online searching for lawn care jobs near me, we hope that you'll add Joshua Tree to the top of your list. We are committed to adding great people to our team and feel that you'll find this is a place where you can grow.
"This is a place where you can have a career," Ryan says. "Josh has already talked to me about ways that I can advance and what other areas of the company that I might be interested in. It's clear that this is a lot more than just a job. There's a career opportunity here."
Want to learn more about what a lawn care career with Joshua Tree could mean for you? We value our
growing family
and would love to answer your questions.