The addition of pest control services for Allentown, Bethlehem, and Easton, PA was a natural addition to the lawn care and tree services we already offer here at Joshua Tree. After all, it has always been our mission to help homeowners be able to get the most out of their properties and we recognize that getting rid of unwanted pests is an important part of that.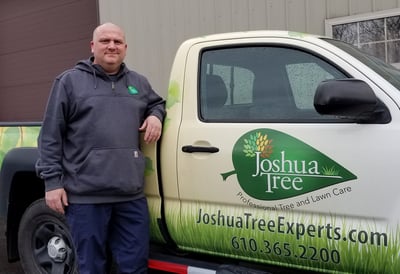 While we were already assisting homeowners in addressing lawn pests like grubs, chinch bugs, and webworms, we know that many Lehigh Valley residents also struggle with other pests like mosquitoes, spiders, and ants. That includes concerns both outdoors as well as inside the home.
Many people have told us they were looking for a solution.
Of course, in order to add a successful pest control division, we knew we needed the best person for the job. We've hired a Pest Control Specialist, Brian Gillette, to run this division and are excited about what it means for our customers.
Brian has 15 years of experience in the pest control industry and is the perfect fit for this role. We are proud to introduce him and know that you'll like him as much as we do!
A Passion for the Outdoors (and Animals)
Brian says that he's always been an "outdoorsy person" so it was no big surprise that he ended up in a career that allowed him to spend time outdoors.
"I was the kid that liked to play in the dirt and with frogs," Brian says. "I really enjoy being outside and in my free time I'm often camping, hiking and playing sports."
Brian is also passionate about wildlife and animals. He has experience performing wildlife trapping and relocation with a wide variety of animals including raccoons, snakes, skunks, bats, and foxes. Joshua Tree is taking baby steps and easing into the pest control market but this might be part of our future.
Inspired by his passion for animals, Brian and his fiance, Toni Daniels, started and run a dog rescue called 3 Husketeers Rescue, a non-profit that is dedicated to saving Northern Breeds from Saudi Arabia. The name was inspired by his pack of 3 Huskies: Bandit, Victoria, and Princess.
A Calculated Approach
Prior to coming to Joshua Tree, Brian worked with two different pest control companies to gain his 15 years of experience in the field. Over the years, Brian has also participated in continuing education and training and has taken courses through Purdue University.
He brings both passion and expertise to the table.
As we mentioned, pest control services are not something we are just "jumping into." Rather, we are easing in. And, we've been researching it and making calculated and careful decisions over time.
That's because we want to do this right.
"I had been in conversation with Joshua Tree's owner, Josh Malik for a couple of years now as this was something he's been thinking about for a while," Brian shares. "I'm incredibly excited about the opportunity to get this division off the ground and running. Josh and I have a great rapport and I think together, we can really make this a great service for homeowners."
In addition to Brian, we will also have a team of trained pest control technicians working within this division. Just as we do for our lawn care and tree care divisions, our emphasis will always be on above-average training and certifications as we believe this is a differentiator.
When it comes to pest control services for your Allentown, Bethlehem, or Easton, PA home, you want to know that you're receiving the best and this is only achieved by utilizing highly trained professionals to perform these services.
Part of the Community
Brian was born on Long Island and spent his childhood there. But at age 12, he moved to the Lehigh Valley and has been here ever since. As a member of the local community, he is in tune with the problems that we deal with and is committed to making our local community a better place.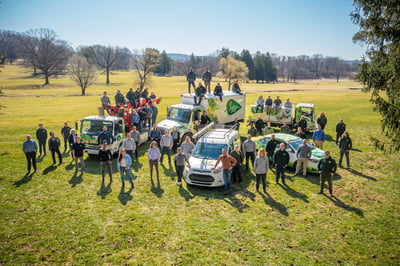 "I have lived and worked in the Lehigh Valley for a long time and I'm really looking forward to getting to know all of Joshua Tree's great customers who live here, too," Brian says. "I know from what Josh has told me that the Joshua Tree clients are amazing and I'm looking forward to serving them."
Those of us here at Joshua Tree echo these sentiments.
We are as excited as Brian to get pest control services underway and for our clients to meet him. After all, this is something that has long been requested by our customers and we know there are unmet needs. We look forward to fulfilling them.
If you're interested in learning more about pest control services for your Allentown, Bethlehem, or Easton, PA home, contact us for a free pest control quote or give us a call at 610-365-2200 so that we can answer your questions.