As a former social worker for child services and a former police officer—not to mention an active member of the military—there's no question that Dylan Degroat has dedicated his life to service. If you ask him, he'd be humble and say it's nothing special but the truth is, he is a natural born "helper."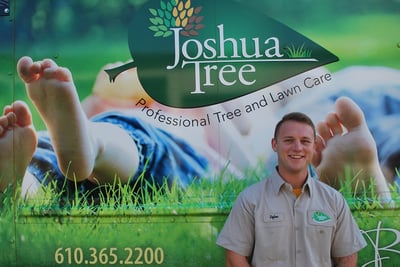 While his former career path was rewarding, it also came with an enormous dose of stress. So, when Degroat decided he wanted to pursue a career that would keep his blood pressure in check, while still having the opportunity to be of service to others, coming to work for Joshua Tree as a lawn care technician made perfect sense.
"I have worked in a lot of industries over the years and the culture here at Joshua Tree is something completely different—honestly, unlike anything I've experienced before," Degroat says. "All of the team members here respect each other. That's pretty unheard of in the lawn care industry where employees often get very competitive and even look down on the 'new guy.' Here, if there's a new employee, everyone is eager to help them learn. It's pretty amazing."
While Degroat came into the industry with no prior experience, he says that he was immediately embraced and encouraged to grow. It's something much different from other lawn care jobs or tree care jobs. In addition to being a lawn care tech, Degroat is now also in charge of the safety committee—something that he says the company takes very seriously considering it's a high-risk industry. Though he's had many different jobs in the past, Degroat says that he "looks forward to working with Joshua Tree for the rest of his career."
"The company owner, Joshua [Malik], sets a great example of leadership for us," Degroat says. "He makes you want to be a better person at work."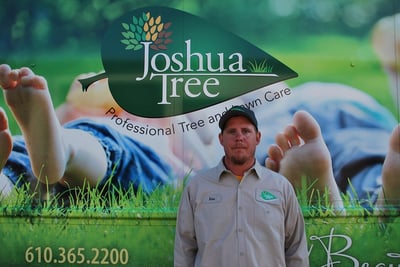 Ken Wickham, a tree and shrub technician in his sixth year with Joshua Tree echoes similar sentiments. He says that although there's a propensity to "bounce around" in the lawn and tree care industries, he's stuck with Joshua Tree because of the opportunities for growth. Though he started as a tree climber he moved over to become a technician and further his career and his education.
"Joshua continues to provide us with the education we need to grow, including going to classes when we need them," Wickham says. "This is a company that is looking for long-term employees who want to keep improving. They're not just hiring any old person who is willing to do the work."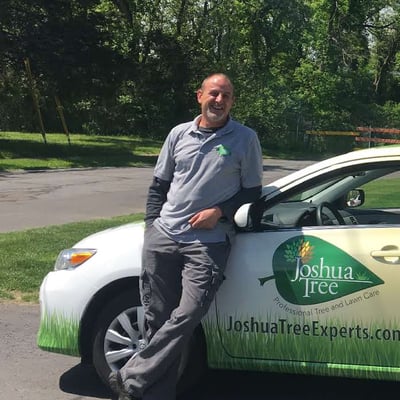 And there's no question that employees who come to work for Joshua Tree tend to stay there. Some of the employees have been there from the very beginning. Ivan Gehman, a sales representative for Joshua Tree, has been with the company for 13 years, since its very beginning, and moved up through the ranks. He says that people who come to work at Joshua Tree "like to stick around" unlike other lawn care jobs or tree service jobs where there seems to be a revolving door.
"I have gone from the bottom all the way up to selling and I feel like Joshua has given me the tools I needed to get there," Gehman says. "He likes to help us learn and educate ourselves and it shows that he really cares about his employees."
Work Plus Family
Having a healthy work and family life balance is important and another reason why employees tend to stick around at Joshua Tree. Wickham says that Joshua has allowed him to work around sports practices or special events so that he didn't have to miss any important family memories.
"As a small business owner, I think Joshua 'gets it' in that he wants his people to still be able to have time for their families," Wickham says. "This industry can be grueling but I also feel like Joshua Tree employees aren't worked so hard that they're exhausted and have nothing left for their family. There's a balance and it's respected."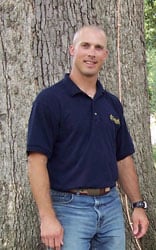 Joshua Malik, says that making sure his employees have plenty of time for their families has always been a priority. He says that "family life is important" and he would never want to see his employees miss out on something because of work.
"I understand that the working family man, or woman, is making sacrifices in order to provide for his or her family and I really respect that," Malik says. "I want to do whatever I can to make it more manageable."
Malik adds that he also feels like his team is a family and it has always been a conscious effort to help make them feel respected and appreciated.
"I view this as a family type of business where there is a family culture at work," Malik says. "I never wanted to hire people who just want to clock in/clock out and not develop stronger relationships. We do lots of team building and hang out as a group outside of work. When we do something fun, employees are paid for the day, it's not like I'm trying to take up their free time. A favorite team activity was when we rented a charter bus and did a New York City trip. We made some wonderful memories as a team. The longevity of employees is incredibly important to me and I hope that making those extra efforts leads to good retention. But more than anything, I just really love my team and enjoy spending time with them."
Finding
Lawn Care Jobs
or
Tree Care Jobs in Allentown, Bethlehem, and Easton, PA
If you're on the search for tree or lawn care jobs near me, you might want to add Joshua Tree to your search list. Malik says that above all else, he is looking for people with a strong work ethic and a desire to learn. All of the skills can be taught.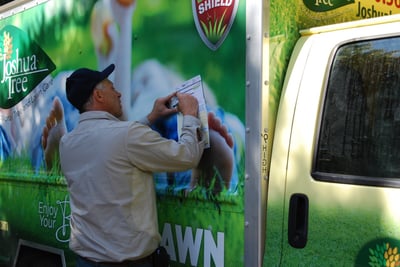 You may be just like Degroat and have no prior experience. But Degroat says, "don't worry, you'll be supported."
He admits he felt those same worries in the beginning. But he says that it didn't last long.
"I came in not really knowing what I was doing and I was really nervous," Degroat says. "But right off the bat, I was embraced. It ended up being a very easy transition with all of the support I received."
If you're even considering lawn care jobs or tree service jobs in the area, take Degroat's advice: "You can do it. We'll be here to help."
Want to learn more about what a career with Joshua Tree can mean for you? We value our
growing family
and would love to answer any questions you may have.