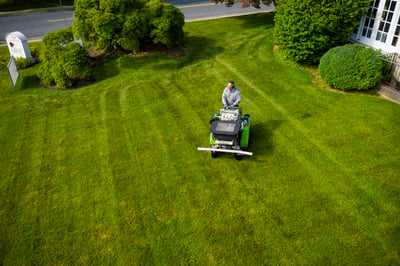 Your lawn is one of the most visible areas of your commercial property. Whether you're responsible for an athletic field, an office complex lawn, or maybe a series of lawns in an HOA, you may be looking for a lawn care company in the Lehigh Valley that's able to transform large lawns to have that wow factor.
It's important to note that while there are other services which are essential in commercial lawn care, including mowing, we're solely focused on lawn care services like fertilization, weed control, and these types of treatments in this article.
We'll talk about how lawn care for large lawns can be achieved with the right lawn care company and how there's more to it than you may realize.
Not All Commercial Lawn Care is Created Equal
It's easy to assume that all lawn care is the same but in reality everything from the equipment used to the specific products can really differ. And that means your results will differ, too. In reality, not all companies invest in high-quality products. They might try to save some money by using cheaper products when it comes to treating acres of grass.
However, this will have a direct negative impact on the outcome.
When a lawn care company quotes a cheaper price for commercial lawn care, you have to consider where they're saving that cost. It could be that they're skimping on products or using equipment that will produce subpar results for you.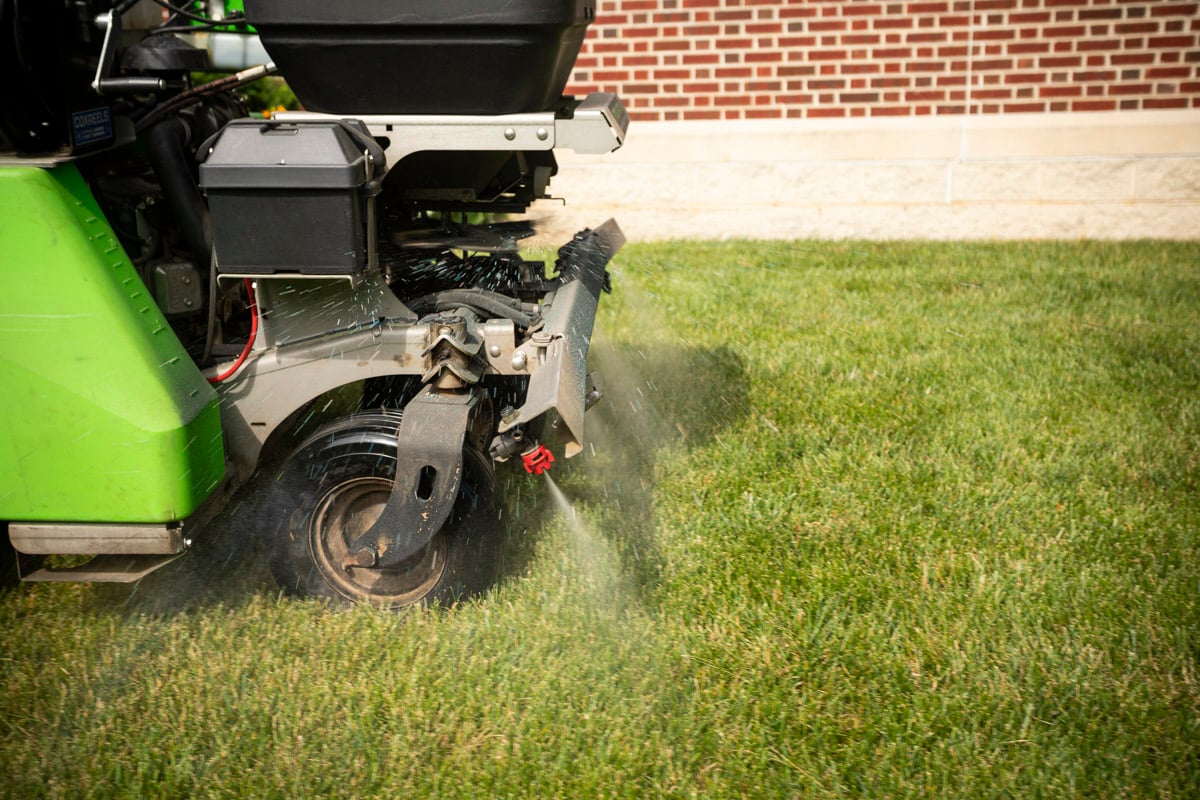 You want to work with a company who is investing in high-quality equipment which is specifically designed for lawn care on large lawns. As you might imagine, some equipment is simply better than others and the last thing you want are visible mistakes from improper applications.
The right lawn care equipment can mean this type of work is completed more efficiently. Chances are that there are many service companies and contractors working at your commercial property on any given week alongside customers, visitors, and employees. Getting the job done right and quickly means more convenience for everyone involved.
Who is Performing Commercial Lawn Care?
In addition to the equipment and the product, another big difference in the way commercial lawn care is performed comes down to who is doing the work. Everything from the application rate to the timing of when lawn care products are applied can have an impact on your results.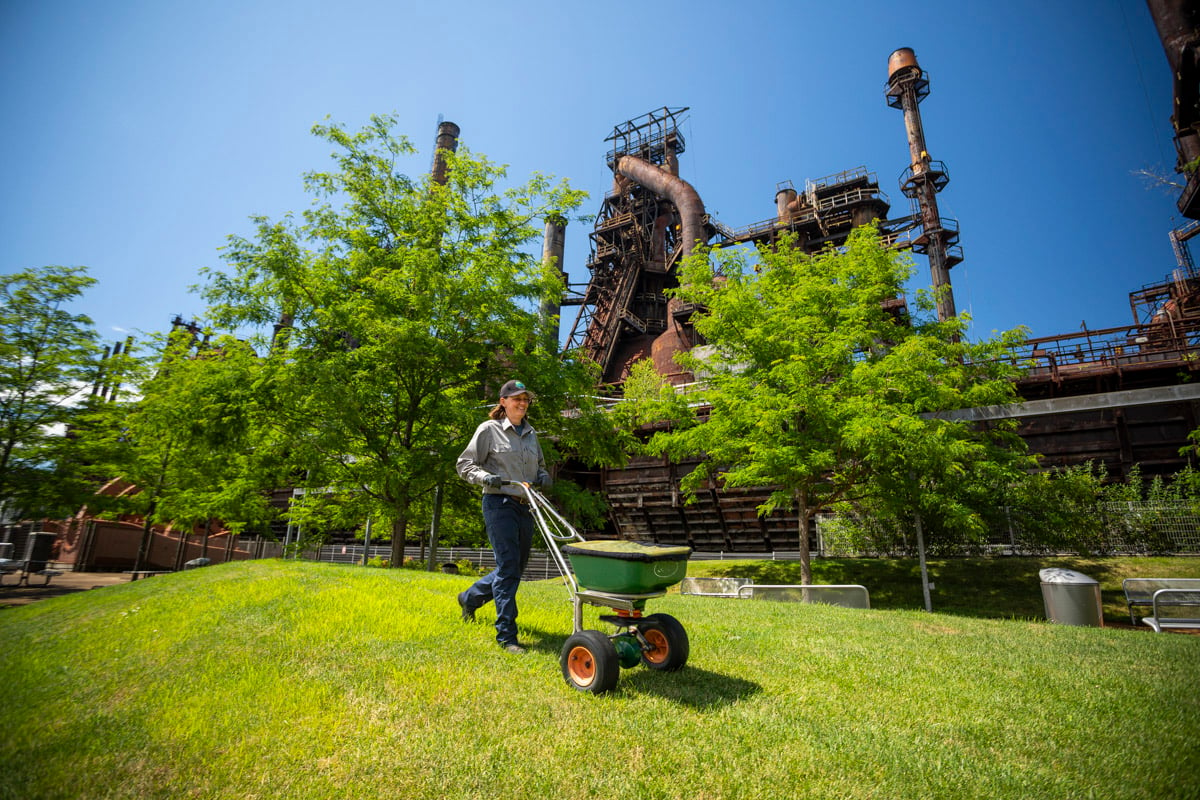 Sadly, there are lawn care companies who would cut corners or who don't employ well-trained technicians. This is another way that they cut costs to make their price cheaper than other bids. They hire anyone who is willing to do the work and they don't put in the time to train them. But this can directly equate to a subpar experience and poor results.
The truth is, there's more to lawn care than simply dumping products on the turf and moving on to the next property. If you truly want to get the most out of your investment, then you want to know that these services are being performed properly. Ultimately, that comes down to choosing a company that has well-trained technicians and invests in training.
Another aspect to consider when it comes to the company that you're hiring is how they will treat visitors, employees, and customers that may be visiting your commercial site. You need a professional and courteous lawn care service that won't cause you any issues. After all, as a property manager, the last thing you need is more headaches because your lawn care company was unprofessional, unfriendly, or not accustomed to working on commercial sites.
In fact, what you really need is a company that makes your life easier. That means you'd love to work with a company that can coordinate with the other commercial services you might be working with. It's a major hassle when your lawn care company and your lawn mowing company show up on the same day.
At Joshua Tree, we have always coordinated with professional mowing companies to schedule our lawn services. As this is something that we have always done for our residential customers, it's also something that we're doing for our commercial clients. The last thing that we'd want to do is interrupt their services or have them interrupt ours. We're skilled at this coordination and we know it's worth the effort on the front end to make sure it's taken care of.
Choosing Joshua Tree for Your Commercial Lawn Care
At Joshua Tree, we've had a lot of success at creating lush, green, thriving lawns for homeowners. This has led to many professionals choosing to have us perform this same type of quality service at their Lehigh Valley workplaces they are responsible for.
Just as we are with our residential properties, we are committed to having the proper equipment, products, and people to support our work on large commercial properties. We understand that people hire us to get great results without the hassles and headaches that are sometimes associated with working with a commercial lawn care company.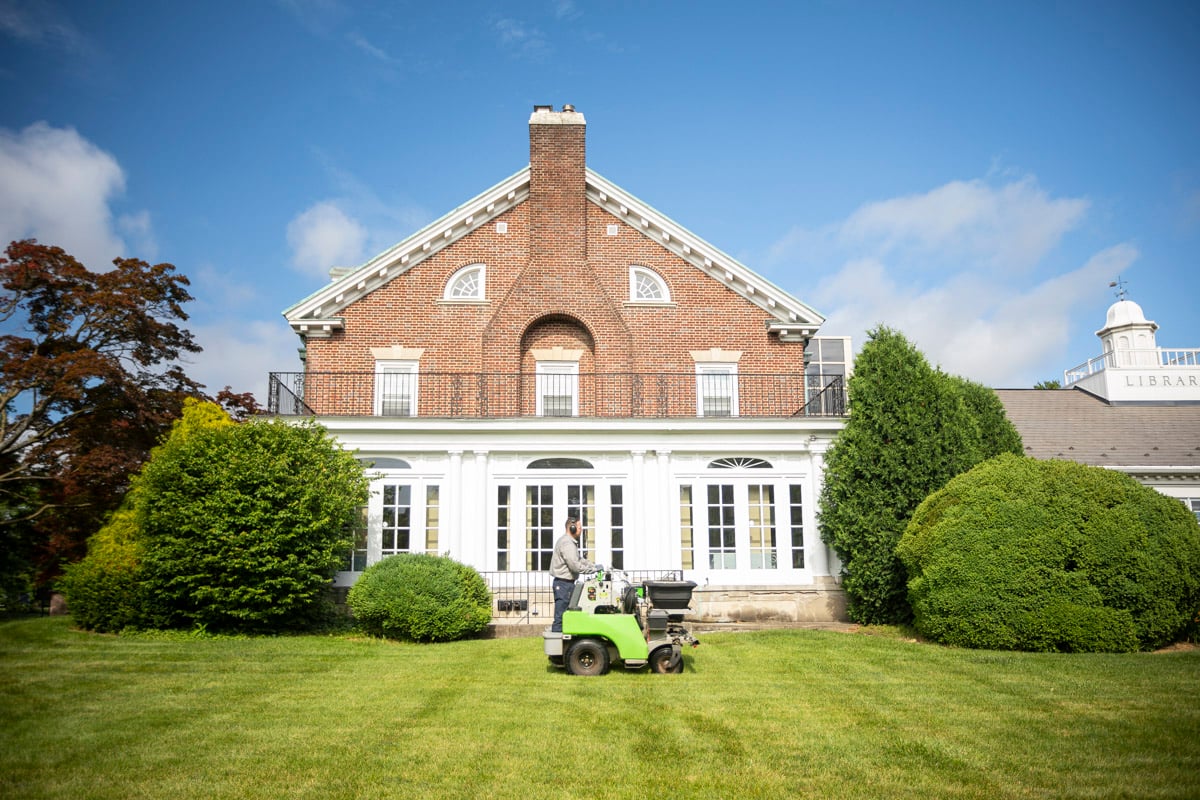 Whether an HOA, an athletic field, an industrial park, or another commercial property, we're committed to producing those impressive results that you're looking for so that your lawn is getting noticed for all the right reasons. After all, we realize that beautiful flowers or an impressive landscape can quickly become under-valued if the lawn is brown or full of bare patches. The turf is the biggest (and most noticeable) area of your property. You want that carpet-like lawn that delivers the same wow factor and makes the rest of your landscape look good.
Fortunately, when you make the wise choice to invest in commercial lawn care from a professional who understands what's needed, and is unwilling to compromise, you don't have to worry. In other words, it's not a company that cuts corners somewhere to keep their price down. On the same token, it's also not a company that's jumped into commercial services without having the right products and equipment to support them.
At Joshua Tree, we can deliver all of that and with it comes the peace of mind that your lawn is getting everything it needs to thrive.
If you're responsible for large lawn areas, trees, or pest control needs at a commercial property, we'd love to talk. Contact us for a free consultation or give us a call at 610-365-2200 so that we can answer any questions you may have and create a customized plan that works best for your property and organization.