What's your favorite part of the winter and holiday season? Is it the gathering of family and friends? The traditions your family has passed down through generations? Maybe it's the excuse to consume your favorite holiday foods and beverages carte blanche? We bet it's a combination of all of the above.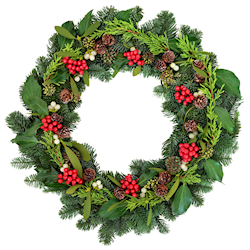 And guess what they all have in common? The beautiful decorations that adorn and illuminate our living spaces - setting the backdrop for all the season's activities. This year, instead of heading out into the commercial madness to spend more U.S. dollars on foreign-made decor and tchotchkes, why not use the complementary ones provided for you by Mother Nature and your winter landscape.
Ideas for Homemade Holiday Decorations and Gifts - all Inspired by Trees
Each of these decoration ideas work wonderfully in the home, or as gifts you can share with family members and friends. They'll appreciate your ingenuity, craftiness - and the fact that your love went into them. You'll appreciate the extra time to yourself, or with the kids, for artistic expression not to mention their ease on your pocketbook!
Holiday Decor 101: It's Time to Make a Wreath!
Wreaths are so easy to make on your own that you'll kick yourself for spending all that cash on the store-bought versions of yore.
You'll need:
Floral wire (available at craft stores, hardware stores and online).
Craft glue.
Gloves (to protect your hands from occasional pricks and natural debris)
Circular wire frames (also available at craft stores but check at your local dollar store first). Single frames are good for ideal for smaller, more delicate frames while a double-frame makes a better foundation for bigger, more lush foliage.
Any manner of adornments, ranging from new, old or repurposed holiday tree decorations that can be artfully arranged to hide their weak spots, to ribbons, bows, birds, holly, bells, berries, pine cones and anything else that inspires you.
Now, go outside and cut any type of greenery you like. Traditionally, wreaths are made from conifer or juniper-type foliage - mostly for their evergreen qualities- but you can use malleable branches from any tree you like. Create manageable bundles that will be wired to the form, one at a time.
Use the floral wire and wrap it around the circular frame a few times to anchor it. Then place your first bundle where you want it and wrap the wire at the base of the bundle - around the twigs and frame - three times. Don't cut the wire as it needs to be continuous connecting tool.
Repeat this step over and over until the frame is hidden and you've reached the desired fullness. Make your way around the frame until you've returned to the starting place, at which point you'll bring the wire to the rear of the frame and secure it with a knot. Leave a few extra inches and then cut it. The tail is used to form a loop for hanging it.
A simple wreath needs only a bow or a bell to finish things off - attached using the same wire. Or, go crazy and spice it up using your imagination and whatever fun items you've gathered.
Fun tip: Use gold or silver spray paint on the greenery and/or the decorations ahead of time to add a little shimmer.
Garlands and Banisters and Climbers, Oh My!
You know all those vines and invasive plant species that infiltrate your property at the exterior tree line? Now, you can put them to positive work. Clip a wheelbarrow full and use them as garlands around your mantel or around the banisters on your porch and interior stairways. You can also add them to your homemade wreaths.
Intersperse some small, LED twinkle lights and you have a holiday decoration that adds interest by day and by night. If you have some of that floral wire left (heavy-weight fishing line works well too) you can create a garland that can be hung to drape the outline of your front garden gate or the walkway of your porch. Use the same approach as the wreath, wrapping small sections securely up the wire or line - tying it off at the end. A few small, well-placed nails or hooks are all you need to secure it in place.
Have an elderly neighbor or friend who can't get around much anymore? Bring a bushel of garland to their house, arrange it artfully and add holiday cheer there as well. The thoughtful gesture and your company are the best gift money can't buy!
Use Dead or Dying Branches to Create Beautiful Art
Part of preparing your landscape for winter means removing dead or dying branches so they - and you - don't become victims of fallen branches or trees as the result of heavy winter storms.
Keep your artistic eye out for beautiful barren birch branches or other "dead" plant materials that can be reborn when they're put in vases or pots and used on the porch, in foyers or on the dining room buffet. You can suspend lights or hang them with themed holiday ornaments. Give each kid their own "barren tree" and let him or her decorate it as they see fit.
It's amazing what a few small, affordable hand tools, your imagination and the landscape can create when they all work together. You can make wondrous works of art that are treasured for years or become holiday favorites in their own right. Are you inspired, or what? Check out these 24 DIY Homemade Christmas Decor Ideas from Country Living.
What are some of your favorite, au natural holiday decorations? Share your ideas (and helpful instructions) with Joshua Tree followers on our Facebook page. We'd love to hear from ya!