Not surprisingly, Arbor Day is one of Joshua Tree's favorite days of the year. Traditionally, it's celebrated on the last Friday in April, which means 2015's Arbor Day celebrations will take place on Friday, April 24th. We're crazy about trees and we think the world would be a better place with more of 'em! That's why each year, we hold an Arbor Day event at one of the local schools in our community.
W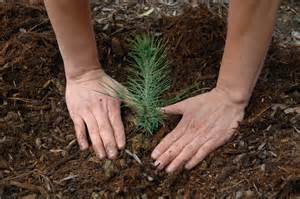 e have a ball teaching kids about trees, showing them how to climb trees safely and our crew also reinforces how important it is to have trees at our homes, schools, communities and in our general surroundings.
The Legacy of Arbor Day? Can You Imagine a World Without Trees? We can't either! And neither could Julius Sterling Morton, the founder of America's first Arbor Day. Morton and his wife, Caroline, were 19th century pioneers. They moved from Detroit, Michigan to Nebraska City, Nebraska back in 1854. While they were excited about their future prospects, they were also very homesick for the established trees and plants they had left back home. As you may know, Nebraska is technically a "plains state", meaning it didn't have very many trees of its own. Thus, winds were fierce, shade was scarce and wood from trees was an essential building material - not to mention fuel source for that time period. Thus, the Mortons got busy planting their favorite trees and flowers, and Mr. Morton used his role as a journalist-turned-newspaper-editor to spread valuable information regarding agriculture, and the importance of establishing trees, to his readership. He also spread messages about the importance of environmental stewardship and that all living things were interrelated. Those new pioneers were enthusiastic readers and they gobbled up the wise words of Mr. Morton, slowly doing their part to grow their own trees, shrubs and flowers. Eventually, Morton decided that a special day should be set aside each year, devoted solely to the task of planting new trees. He realized the long-standing and exponential effect it could have for our developing nation if a tree planting day was recognized nationally. Thus, Morton worked tirelessly to see this vision come true. According to arborday.org, "In 1872, the State Board of Agriculture accepted a resolution by J. Sterling Morton "to set aside one day to plant trees, both forest and fruit." The Board declared April 10th an official Arbor Day and offered prizes to the counties and individuals that properly planted the largest number of trees on that day. More than one million trees were planted in Nebraska on the first Arbor Day."
How to Plant Trees on Arbor Day - or Any Day... Would you like to celebrate Arbor Day the weekend of April 24th? Good for you. Here are a few tree planting tips from the professionals.
What kind of tree(s) should you plant? Typically, you'll be deciding between an evergreen, ornamental or shade tree. In that case, you need to keep your landscape and property dimensions in mind, and then learn a little bit about the mature height, girth and root system of the tree(s) you're considering. The last thing you want is to have to cut down or remove a tree for the simple fact that you didn't adequately plan for its placement ahead of time.
What purpose will the tree serve? Do you need more shade? Is there an unsightly view you would like to block? Is it a focal point for the front of your house or your backyard landscape? Your local nursery or a certified arborist choose the right tree. If you want shade, you need a tree with a large enough canopy and it should be planted such that it yields shade at the right time of day, during the right time of year. If you're blocking an unsightly view, you need a tree whose mature canopy will peak at the right height. If you're looking for a focal point, think about whether color changes (ornamental) or evergreen trees would be better for your architecture and location.
Do you have specific aesthetic preferences? Once you've decided which type of tree will work best - evergreen, ornamental or shade tree - you can start to get super specific about what you want aesthetically. This can include particulars about leaf color, trunk structure, flowering ability, etc. Most trees live at least 20 years so you want to be happy with your choice since you'll be living with it for two decades or more. If you'll be planting your Arbor Day trees on your own, or (even better) as a family, please read our blog post on How to Plant a Tree so your tree has access to everything it needs both underneath and above ground. Need some professional assistance tending to trees you've already planted or to diagnose an existing tree issue? Please contact Joshua Tree and we'll be happy to send one of our certified arborists over to take a look.