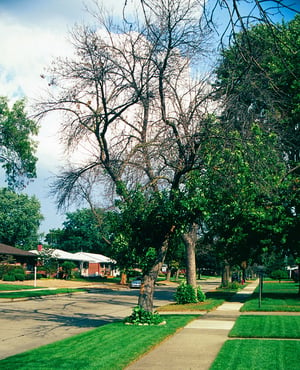 The Emerald Ash Borer is here in PA—specifically, right here in the Lehigh Valley. This isn't a surprise as we've known they were coming and have been talking about them to our clients for years. Still, it's alarming to our tree care clients in Allentown, Bethlehem, and Easton, PA to realize that these highly destructive pests have now taken up residence in our region. Once this pest finds a home in your ash tree, it's only a matter of time until it's completely destroyed.
We feel it is our responsibility to warn folks that they should consider an Emerald Ash Borer Treatment or they'll need to kiss their ash goodbye.
Getting Rid of Emerald Ash Borer
in Allentown, Bethlehem, and Easton, PA
So what exactly is this destructive pest that everyone is so worried about? The Emerald Ash Borer (or EAB as they're commonly referred to) is an exotic beetle that was unwittingly brought here from Asia. Since its arrival in the United States in 2002, it's come to be considered one of the most destructive pests in North America. That's because it absolutely destroys ash trees in its path.
The key to saving your ash tree is to prevent EAB from taking up residence in the first place. Due to the highly destructive nature of this pest, once they've made a home and begun their damage, it may be too late to save your tree.
The following point cannot be emphasized enough: If you have an ash tree on your property, and you want to save it, you must get an Emerald Ash Borer treatment. It's not a matter of "if" the EAB will come after your tree. It's a matter of "when." The only surefire way to save your ash tree is with preventative treatments.
If you believe EAB is already affecting your ash tree, it's important to have a professional examine it to determine whether it should be removed. If damage has already begun and is too widespread, then it's important that your tree is safely removed by a tree service in Allentown, Bethlehem, or Easton, PA. You don't want to wait and risk limbs beginning to fall and doing serious damage to your property or harm to a person.
How
Emerald Ash Borer Treatment
Works
The Emerald Ash Borer treatment used by professional tree care companies in Allentown, Bethlehem, and Easton, PA is an injection of a professional-grade product directly into the tree's vascular system. From there, it will make its way throughout the entire tree during a process called "translocation."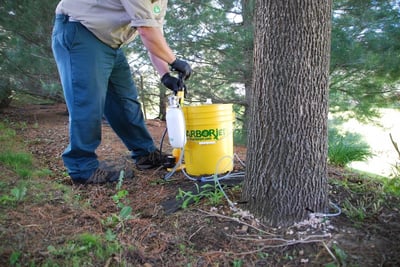 We use a product which works by targeting EAB larvae under the bark, where they feed. This treatment kills the larvae which not only controls the damage, but reduces the number of adults that can emerge later, spreading this insect problem in our area. The product is good for two years so we recommend an injection every other year in order to ensure your ash remains protected.
While Joshua Tree has had a lot of success with preventative treatments on ash trees that have yet to be infested, it's a different story on trees that are already showing signs of EAB damage. In those cases, there's really no guarantee that the treatment will work. It can be hit or miss. It's best to have a professional assessment of your ash tree to determine whether to give Emerald Ash Borer Treatment a shot or whether it's best to just begin the tree removal process right away.
We know that the trees on your property are valuable to you. Your ash tree offers up shade, aesthetic appeal, and even an emotional attachment that cannot be replaced. If you love your ash tree, invest in it with a professional Emerald Ash Borer treatment. It's less expensive to treat your trees preventatively over the years than it is to remove them, not to mention the fact that a full-grown ash tree is irreplaceable. It would take years for a new tree of another species to mature again.
Prevention is key. With an Emerald Ash Borer treatment, you won't have to say goodbye to the beloved ash trees on your property.
If you're interested in having your ash tree evaluated, contact us for a free consultation or feel free to give us a call at 610-365-2200 so that we can answer any of your questions.
Image Sources: emerald ash borer damage