Happy Thanksgiving, Joshua Tree friends and family!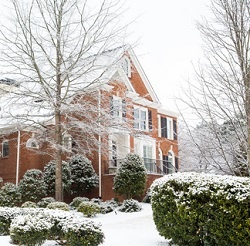 We are so grateful for your loyal business. In fact, we're especially grateful that our long-term clients wind up feeling just like family over the years. We sure hope Thanksgiving weekend 2016 finds you gathered with your most beloved family members and/or friends as you give thanks for your blessings.
Even the simple act of being able to sit down at a table, laden with food, in a snug home is a significant blessing when compared with the majority of the 7 billion others that call this planet home. Running water, sanitation, food on the table, peace inside our borders, our children's access to free education – all of that is more than enough to be thankful for.
But, as long as you are cozied up by a warm fire (or central heating) with your cup of tea or cocoa, let's talk about the upcoming winter weather and what that means for your landscapes' trees and shrubs. In fact, if you have a tree that doesn't look as healthy as it should, now's the time to call your certified arborist to have it looked at. We can perform fast-acting fixes before the harsher weather sets in to bolster your tree through the winter.
Thanksgiving Signals the Beginning of the Cold Tree Season
In the tree business, Thanksgiving signals the start of the cold season. From this point on, all bets are off, and the storms that come through our neck of the Pennsylvania woods can create bitterly cold winds. If you've spent much time outdoors this time of year, you're familiar with the risk of chapped skin or lips. These uncomfortable – and often painful – conditions are the result of dry, cold air that sucks the moisture from your protective skin layers.
Despite their tough bark, your trees are not immune to that same threat. In fact, when those winter winds kick in, even mature trees risk suffering from dehydration. The colder the weather, the more prone to dehydration your trees are because the combination of dry air, cold winds and frozen ground make it impossible for trees to absorb the moisture they need from their environment.
In worst-case scenarios – like with very young or diseased trees – one hard winter can be its undoing. In more typical scenarios, we see trees emerge in early spring much less robust than they should be, and this puts them at risk for stunted growth, diseases and/or pest infestations. Fortunately, we have a preventative solution to this problem: Anti-transpirants.
Consider Applying Anti-Transpirants Before Winter Blows In
Your tree's leaves, or needles, go through a process called transpiration, where water is released through the foliage pores and into the environment. When trees are getting the water they need, and are enjoying their preferred climate, transpiration is balanced with the uptake of water the trees get from the ground. During the winter months, however, this process can get out of whack.
Frozen ground means less water for roots to take up, and drying winds exacerbate the transpiration process. The result is a dehydrated – and stressed – tree. Anti-transpirants – also called anti-desicants – help to buffer this process. We can use them in several instances such as on newly planted trees, trees that are showing signs of stress during the hot, dry days of summer – and we also apply them to broadleaf and evergreen trees during the winter months.
In addition to protection from dehydration and windburn, an anti-transpirant application also protects your trees and shrubs from salt burn, which is another serious winter threat to your Pennsylvania landscape. We've seen a marked difference in trees that enjoy the benefits of anti-transpirants this time of year.
Are you interested in learning more about anti-transpirants? Do you have a tree or two that isn't looking as robust as it should? Contact Joshua Tree so we can come out and take a look. Your landscape's trees and shrubs will give thanks for the preventative measures you take now to protect them this winter.
Happy Turkey Day!