Nobody likes the idea of pests lurking in or around their home. That's why you might be thinking about or even already signed up for pest control services.
Either way, we like your thinking! Professional pest control can be an effective solution to get rid of an existing infestation and also prevent a future one.

After all, you shouldn't have to wait until you already have pests to take action. There are ways to prevent pest problems in the first place.

But if you've never used a pest control company before, you might have no idea what to expect. That's why we're talking about how to prepare for a pest control visit.
How to Keep Pests Out of Your Home
Most pest control companies will begin the process with a consultation to determine your exact needs. Let's walk through what that will look like so you can know what to expect.
1. A Thorough Inspection
First and foremost, no matter whether you have an existing problem or you're just looking for pest control to prevent problems in the future, you can expect a thorough inspection of your home and property during your first pest control appointment.

If you have a known problem or you've discovered something that has alerted you to a potential issue, we're going to ask you about that and want to find out more.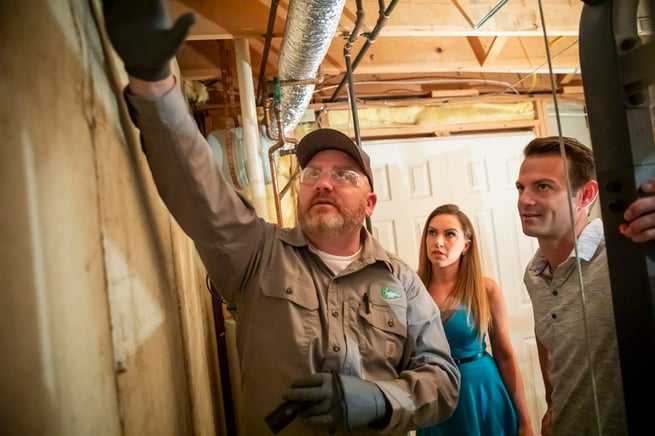 Some reasons that homeowners call a pest control company is that they hear noises or notice what they think might be pest droppings.

But even if you don't have a known issue (and you haven't seen any signs of one), you can expect a pest control expert is going to check everything and make sure there's nothing currently going on.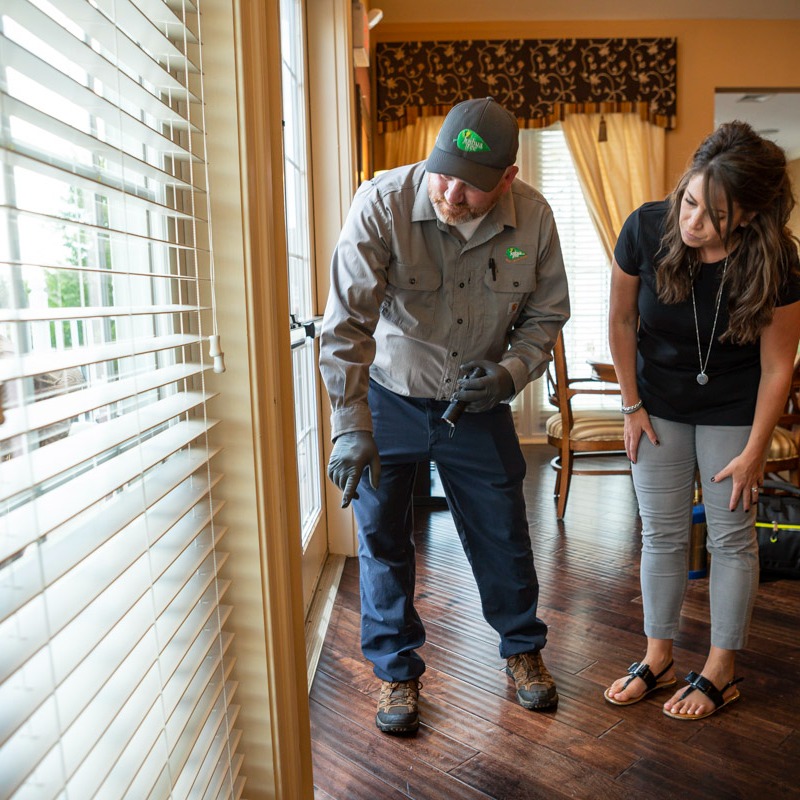 Sometimes the signs of a pest problem are subtle and will take a professional eye (and expertise) to notice something going on. Of course, there are also many times when we don't find any sign of a major problem or infestation and homeowners just want to get on a plan that will prevent one.
2. Get a Comprehensive Pest Control Plan
Once you have had a thorough inspection performed during your first pest control visit, you should expect that you're going to receive a comprehensive plan that is customized to your wants and needs. Exactly what that plan looks like can differ from client to client (and property to property).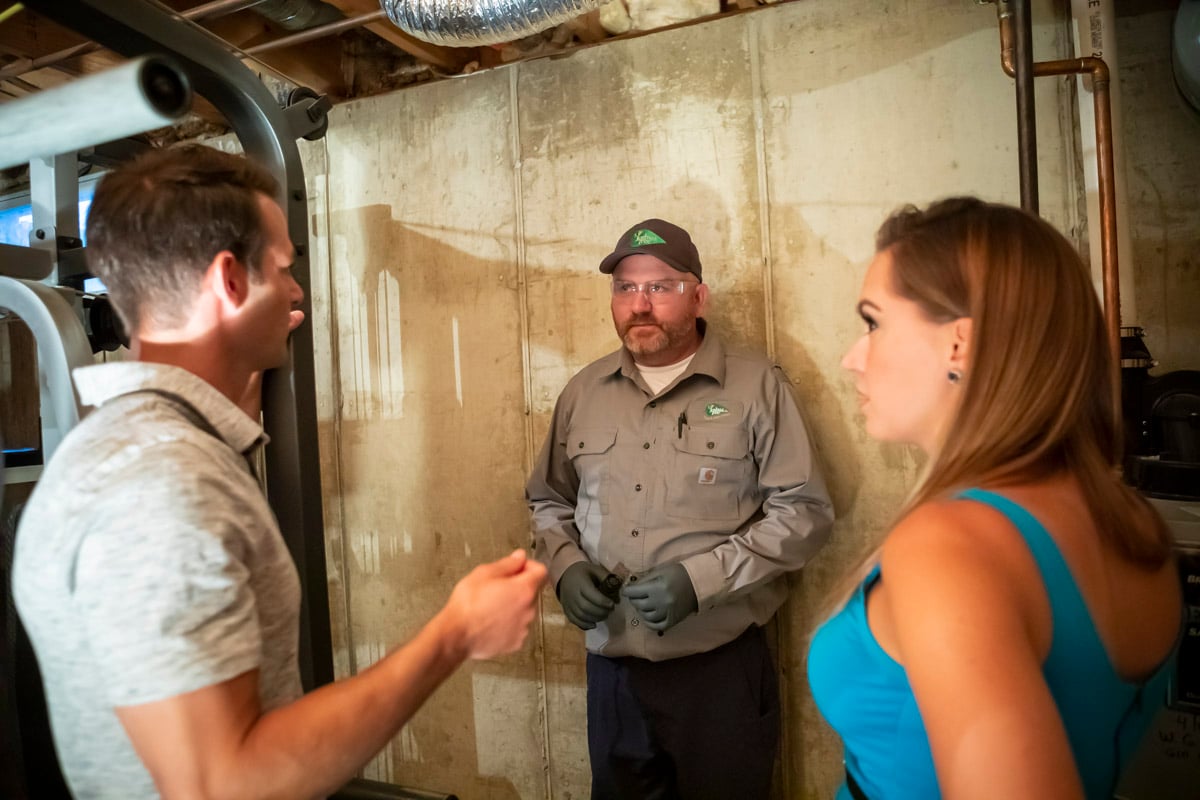 For instance, if you have a known problem with rodents, that's what we're going to need to address ahead of anything else. Once we've gotten that problem under control, we'd then move into maintenance and prevent a problem like this from occurring again.
3. Gain Peace of Mind Knowing You're In Good Hands
Once you've had an inspection and gotten a plan, you should be able to rest assured that you're in good hands and your property is being protected.

We have addressed this article from the point of view of coming out to your home for the very first time, ahead of signing on for a plan. But once you sign up for that plan, you can expect that your first pest control visit will involve following through on everything we've determined needs to be done.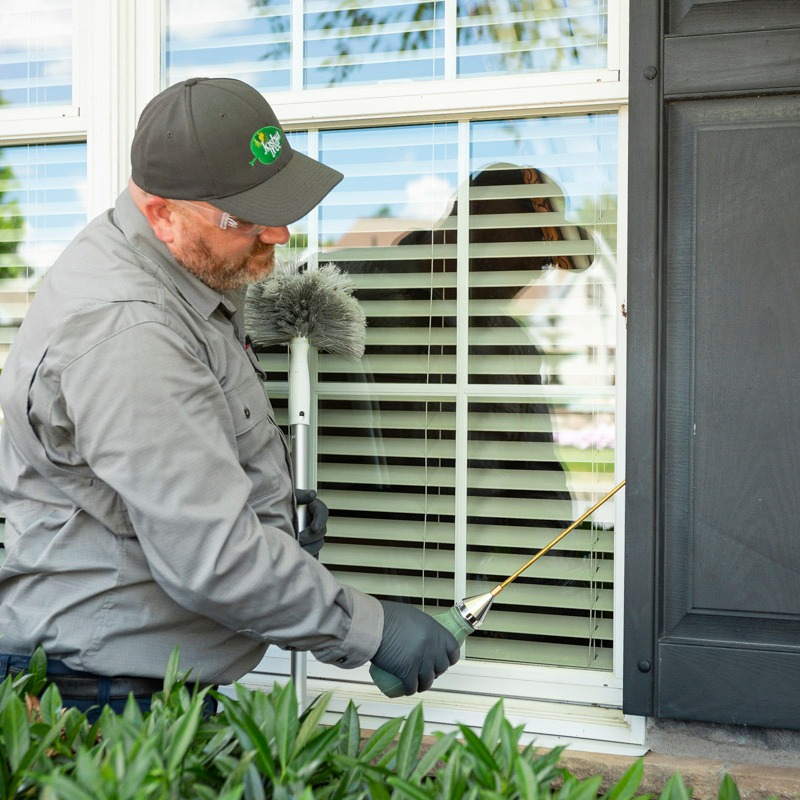 This is going to differ from client to client based on exact wants and needs as well as whether they're already dealing with an issue or not. Our Quarterly Pest Control service does include an interior visit, but whether or not that visit is first or not will depend upon what you have going on.

Our program is highly customized and specific to each property but to give you an overall idea of what's included, here's a helpful list.
Barrier treatments around the exterior of your home.
Interior treatments as needed for covered pests
Crack and crevice treatments around the exterior of windows, doors, and other pest entry points.
Removal of all accessible wasp nests and spider webs around the exterior.
Exterior rodent inspection and repair recommendations.
Winter interior inspection for rodents and visible evidence of termite activity.
Free service calls.
Making Your Wise Choice in Pest Control
We commend you for wanting to be an educated consumer and having a better idea as to what to expect for a first pest control visit. Whether you have already signed up for a program, or you're just thinking about it, we love that you want to know what's involved in the process.

If we can answer any additional questions for you, we are always here to be a helpful resource. Ultimately, the visits and overall program are tailored to your wants and needs so once we've spoken to you or visited your home, we can give you even more information on what to expect.

If you're interested in learning more about pest control services for your Buxmont, PA home, contact us for a free pest control quote or give us a call at 610-365-4858 so that we can answer your questions.