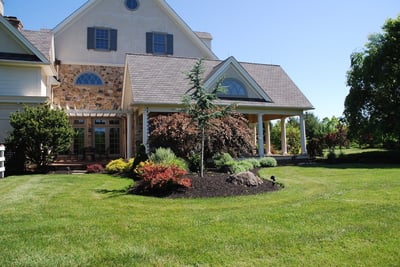 You'd like a better lawn; One that you can really enjoy and that the neighbors will envy. That's why you're in the market to find lawn care for your Allentown, PA home. You want to choose a service that you can trust to help get you the lawn that you really desire.
That all sounds simple enough. Of course, when it comes to actually choosing amongst the best lawn care services in Allentown, PA, you may find that it's not exactly an easy feat. That's because there are a lot of companies to choose from and they're quite different. You may be uncertain as to whether you should trust a big name that you recognize or a local company.
We understand that with all of the choices, and all of the information out there, it can be easy to get overwhelmed. But we want to help guide you in making the best possible decision for your lawn so that you will be happy with the service and the results.
As you perform your search, it's likely that TruGreen Allentown is a name that has come up and that you may be comparing this company against a local lawn care company like Joshua Tree. Let's take a look at some points to make a fair comparison.
Joshua Tree vs. TruGreen: What You Should Know
There's no denying that TruGreen is a recognized name. In fact, it's not just recognized here in Allentown, but across the country, as well. It's definitely hard to go far without seeing one of the TruGreen vehicles out there.
So how exactly does Joshua Tree compare to a company like TruGreen?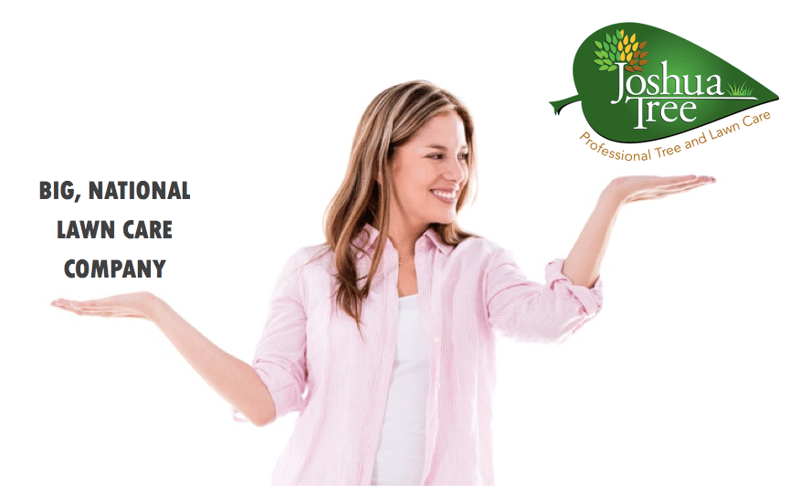 As a large national chain, the biggest difference between TruGreen and Joshua Tree is the size of their customer bases. TruGreen services millions of customers across the country while Joshua Tree is solely focused on the Lehigh Valley including areas like Allentown, Bethlehem, and Easton, PA.
While their size is quite different, their service offerings share some similarities. At a glance, Joshua Tree offers lawn care, tree and shrub care, tree pruning and removal, outdoor pest control, aeration, and overseeding.
On the lawn care side, TruGreen Allentown, PA's branch has similar service offerings. And they do offer tree and shrub care plans. But TruGreen does not have the tree expertise or offer any tree services like tree removal or pruning, which Joshua Tree does.
Comparing Online Reviews
Now that you know a little bit about each of these companies, let's dig even deeper. It's important to get some third-party opinions as you look to make this big decision.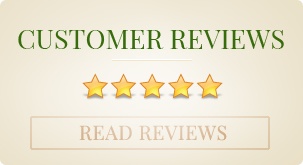 Online reviews are definitely a great place to turn as you compare lawn care services in Allentown, PA, and its surrounding areas. Hearing what others have to say about the lawn care companies you're considering can be a huge help in narrowing down your choices and ultimately making your decision.
We'll look at reviews locally, but since TruGreen is a national brand, and there are many similarities from branch to branch, it doesn't hurt to also read through some of TruGreen's national reviews, as well.
Let's also look at TruGreen Allentown reviews on four popular review sites.
TruGreen Allentown Reviews
Google:

95 reviews

, 3.8 star rating


Facebook:

Cannot find local page
HomeAdvisor:

5 reviews

, 4.1 star rating (not a screened and approved member of HomeAdvisor)
Angie's List: 67 reviews, 3.0 star rating

All of these sites offer review opportunities where a customer can rate a company and its service, as well as provide feedback. But exactly how these sites operate can differ in nature.
It's worth pointing out that both Listen360 and Customer Lobby are similar tools but they operate a bit differently from some of the other review sites out there. They are both third-party solutions that allow a company to send feedback requests to their clients after a service is performed. Clients can then score the lawn care companies and leave notes.
In addition, note that all of these review sites use a star rating system, which remains the most popular way of evaluating a company. If you're looking for the "best of the best," then you should be searching for companies that have at least a 4.5-star rating, and have at least several dozen reviews across these sites.
Comparing Pricing
While you should never shop for lawn care on price alone, it's obviously a factor that you're going to consider as you compare lawn care services in Allentown, PA.
Joshua Tree's Lawn Care Pricing
Joshua Tree has three lawn care programs starting with its Basic Lawn Program. This covers the most common issues that your lawn will face and begins at $246 per year. The Traditional Lawn Program includes everything in the basic program, plus preventative grub control and starts at $309. Finally, the Premium Lawn Program covers everything from the other two programs and also includes lime, core aeration, and overseeding, and starts at $562 per year.

Joshua Tree is very upfront about our pricing and has that information provided right on our website. You know exactly what you're getting for the dollars that you invest and there are no hidden fees or surprises with additional costs later.
Trugreen Allentown Pricing
We'll also tell you that TruGreen Allentown, PA, will likely appear to be the less-expensive option (at least when you first look at them). They have been running the same pricing promotion for more than a decade, which is that the first visit is $29.95 for up to 5,000 square feet.
But that's only the first visit.
From there, an average visit could be closer to $50+ per visit, times the 8 visits they perform, or even more if you have a larger lawn. In the end, it could actually be a lot more.
Plus, you need to consider what you're getting. You need to also look at cost versus value and be sure that you're satisfied with the service you're receiving, regardless of the price you pay.
A lot of people don't realize that all lawn care programs are not the same. It can vary dramatically from company to company in terms of what materials are used, how well-trained the technicians are, and even whether the company maintains high-quality equipment. All of these factors can drastically influence price. You have to remember that like everything else in life when it comes to lawn care, you get what you pay for. That means it may be worth investing a little more in better quality service and results.
Comparing Service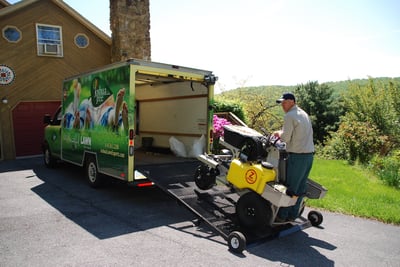 Finding a lawn care company that provides really great service is what you're ultimately after. Where we feel that Joshua Tree really differs from TruGreen Allentown, PA, as well as other lawn care services in Allentown, PA, is with the high level of customer service we provide. One of the reasons we're able to provide that is by really getting to know the people we're serving. That's easier to do as a smaller local company.
But Joshua Tree even goes above and beyond when it comes to offering personalized service. Because we put such a strong emphasis on getting to know each of our clients, we assign technicians to specific properties. That means you'll see the same friendly face working on your property each and every time.
Personalized service is challenging for a large, national company. TruGreen has somewhere between 13,000 and 14,000 employees. In general, larger service companies are known for higher turnover rates (a problem that plagues our industry in general) making it even more challenging for you to really get to know the people that are servicing your lawn.
Making Your Educated Decision
You're probably starting to realize that choosing the best lawn care service in Allentown, PA is a lot more complicated than just picking a name that you "know." Today, with access to so much more information, you have the opportunity to make a very calculated decision based on a variety of important factors that you can research.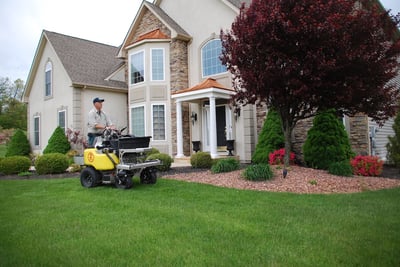 Still, access to all of that information can also be overwhelming—and even confusing. You shouldn't require a background in agronomics in order to be able to compare lawn care in Allentown, PA. You should be able to find a company that you can trust to offer you the services your lawn really needs, not just sell you on something that will solely benefit their bottom line.
With so much advertising noise out there it can be difficult to know who to trust. But we want you to know that even if you don't choose Joshua Tree as your lawn care company, that we want to be available as your guide in helping you navigate the industry that we love. We know that honesty and transparency are rare these days and it can often feel difficult knowing who will give you an honest answer. But we are always available to answer questions or to help guide you on some of the lawn issues you might be struggling with.
While choosing the right lawn care company is a big decision, you shouldn't stress, as we are here to help guide you through the process. We will be honest with you about what your lawn needs and you can count on us not to try to sell you on something it doesn't. By choosing wisely, you can work on building a long-term relationship with a local company with local people instead of a large national chain that will never truly get to know you or your lawn.
If you'd like to work with local experts and want to learn more about our lawn care services for your Allentown, Bethlehem, or Easton, PA home, we can help get you started with a free consultation that you put you several steps closer to the lawn you desire.