The process of finding a lawn care service can be overwhelming. That's because there are a lot of choices and they're often all very different. Even right here in the Lehigh Valley, the best lawn care services in Allentown, Bethlehem, and Easton, PA are quite varied.
On the outside, it may seem as though lawn care services are all the same but the truth is that everything from what they offer, to the level of training of their technicians, to even professionalism can differ drastically. It's absolutely worth putting in the time to research the options and know what you're getting for your investment.
The differences between lawn care companies can also be the reason behind variations in price. Though you may be inclined to shop by price alone and just choose the cheapest service, like anything else in life, you get what you pay for.
Though it can be time consuming to do the research, it's one way that you can narrow down the playing field and make sure you're investing in a lawn care company that is going to give you the best possible value. That doesn't mean the cheapest price but instead the best service for the price you pay.
There are a lot of companies in our area that offer lawn care services and some are certainly better than others. Let's take a look at how some of the best lawn care services in Allentown, Bethlehem, and Easton, PA stack up.
Reviewing
Lawn Care Services in Allentown, Bethlehem, and Easton, PA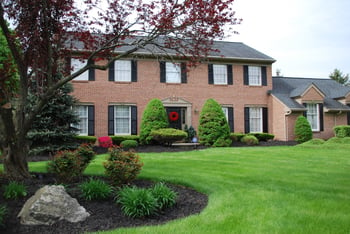 Those of us here at Joshua Tree can recognize a good company when we see it. We've been around long enough to know who our competitors are and we appreciate when they help keep the bar high when it comes to setting strong expectations and providing good service. Here are four of our well-known competitors in the region.
R & R Lawn Care
This family-owned business offers lawn care, landscaping, and tree and shrub care. Established in 1975, R & R offers a 5-visit lawn care program that covers the common treatments homeowners request for their lawns.
R&R also provides lawn aeration and seeding, hardscaping, and landscaping services to homeowners in the Lehigh Valley area.
Lawns by George
Another family-owned business in the area, Lawns by George has been providing lawn care since 1955. Focused solely on lawn care treatments, the company has various year-round lawn care service offerings like weed control and grub control.
Their website offers a page with seasonal lawn care tips and the ability for customers to login and manage their account.
Greenscapes Landscaping & Lawn Care
In addition to lawn care services, Greenscapes offers landscape maintenance as well as design and installation services. These projects include items like patios, lighting, and water features.
They offer two options for lawn care programs for properties in the Lehigh Valley area.
NaturaLawn of America: Lehigh Valley
A well-known national franchise, NaturaLawn of America has a Lehigh Valley branch that services our area. They perform a variety of lawn care services including pest and weed control, fertilization, and seeding/aeration.
NaturaLawn is the 26th largest green industry company, weighing in with over $51 million in annual revenue, 95 percent of which comes from services for homeowners.
How Joshua Tree Compares to Other
Lawn Care Services in Allentown, Bethlehem, and Easton, PA
Like some of these other companies, we really value personalized service. We are locally owned and put a strong emphasis on getting to know each of our clients. In fact, we think that the level to which we get to know our customers is something that sets us apart. We are all about our clients and offering them the best possible service.
Designated & Experienced Lawn Care Technicians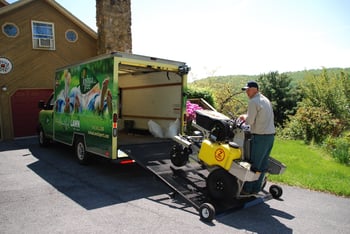 One way we tend to be different than other lawn care companies is that we assign technicians to specific properties. That means you will get the same lawn care technician who will get to know you and your lawn.
A lot of companies talk about a customized approach to lawn care but they send different technicians all the time. That's not always the company's fault. There is a lot of turnover in the lawn care industry and technicians come and go.
But that's not the case here at Joshua Tree. We're focused on providing our employees with a career and as a result they stay here for the long-haul. Each of our technicians have five or more years of experience caring for lawns, and our entire team has a combined 200 years of practical lawn care experience!
Responsive & Available Customer Service
In addition to getting the same lawn care technician every time, you can also rest assured that you will get your calls answered. We believe in a high level of communication with our clients and don't make you wait around to receive a return call from us. We also leave behind communication every time we set foot on your property. We believe you should know what we did on your property at all times. That means even if you weren't home, you'll be kept informed.
Utmost Professionalism
Our employees also exude a high-level of professionalism. Our sales team will visit your property to analyze your lawn, not just price it over the phone with a satellite image. We will answer whatever questions you have and help you understand the many challenges your particular lawn is facing.
When our lawn care technicians come to your property, they'll be dressed in crisp uniforms (with a name identifying badge) and clean, top-of-the-line equipment. We have worked hard on building a brand that our clients can trust and we know that our people and their equipment are the face of that brand. That's what is out and about in the community and what people see on a daily basis - so we make major investments in it.
When a Joshua Tree expert comes to your home you can expect the utmost professionalism. More often than not, our stellar reputation precedes us when we meet a new client and that's something that we're incredibly proud of. We don't do a lot of advertising but we continue to grow because of our reputation. We're honored that word of mouth has been our best source of new work.
Ongoing Lawn Care Training & Technology Advances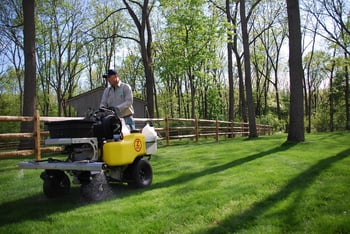 Another thing that sets us apart is our commitment to remain up to date with everything from training to technology. It's easy to get stuck in an old way of doing things but we're constantly investing in our company to keep it fresh and new and we believe this benefits our clients in many ways.
We retire old equipment regularly (as often as every two to three years) and replace it with state-of-the-art equipment that will get the job done better. While a lot of companies run their equipment to the very end, we know that replacing old equipment with newer models ultimately provides our customers with better service.
We are also strongly focused on training. We put in both the time and the monetary investment into continually training our people and that's no small feat. In fact, we log about 80 hours of training each year. While it would be easy to let training lag, especially when we get busy, we believe that it's something that is worth the effort.
Our people are the best at what they do because they're continually kept up to date with the latest techniques and always analyzing whether there is a better way to do things.
Detailed Focus on Safety
We also continually perform safety training, which is incredibly important in the lawn care industry where we are working with professional products and equipment. At the end of the day, all of this allows our people to provide the best possible customer service to our clients. We know that you only want the highest trained professionals working on your property.
Active in the Lehigh Valley Community
Another way that Joshua Tree stands apart from the crowd is in the large amount of volunteer work that we do. We believe strongly in giving back to the community that has embraced us so wholeheartedly.
From working with many of the local schools, hospitals, and homeless shelters, to even volunteering each year as the Head of Tree Care at Arlington National Cemetery's Renewal and Remembrance Project, we believe that being part of a community should come with a commitment to give back. In fact, there was one year when 400 hours of work we performed was all volunteer work. We know this is time we could be profitable but instead we choose to give back because we believe it's the right thing to do.
What is the Cost of the Best
Lawn Care Service in Allentown, Bethlehem, and Easton, PA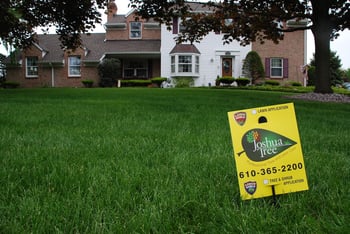 We already mentioned that you should not shop for lawn care services on price alone. All of the things we've talked about are reasons why some of our three lawn care service programs might cost a little more than programs of a couple of our competitors.
We invest when it comes to training, top-of-the-line equipment, true professionalism, and providing our employees with a long-term career. These things do make us cost more but we also think they provide a lot more value for you.
Our target for new clients are those who value the company that they're investing in and are willing to pay a little more for better service. That's because we're looking for long-term relationships that deliver the kind of results that go well beyond just controlling a few weeds here and there.
The average relationship between a lawn care company and its clients is three years. That's because over time service starts to lag from those companies that aren't continually training their people, updating their equipment, and communicating with the client. That sends the client ultimately back out into the marketplace to shop around for a new lawn care company. It's a hassle because it means starting all over again with the research process.
We're bucking that trend. Our service is so superior that we're building long-term relationships with our clients. We're remaining their lawn care provider for years down the road and that's mutually beneficial to both of us. You won't have to start back at square one in researching companies and we'll get to truly know you and your lawn in a way that will allow us to provide you the best possible service.
Choosing the Best Lawn Care Service in the Lehigh Valley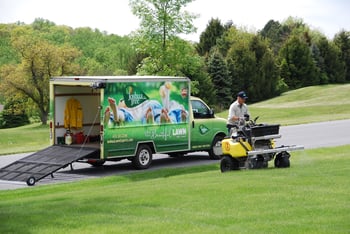 As you begin to narrow the playing field, ask questions not only about what services the company offers but also how their people are trained, how regularly they replace equipment, and in what ways they communicate with their clients. You should also take time to read online reviews and ask for referrals. Hearing from other clients provides valuable information.
If you've done your research and we've made the list, we would be happy to answer your questions. We have worked hard to build a strong reputation as one of the best lawn care services in Allentown, Bethlehem, and Easton, PA, and we'd love the opportunity to tell you more about what we do.
If you'd like to hear more about how our lawn care services can improve your property, contact us for a free consultation or feel free to give us a call at 610-365-2200 so that we can answer your questions.