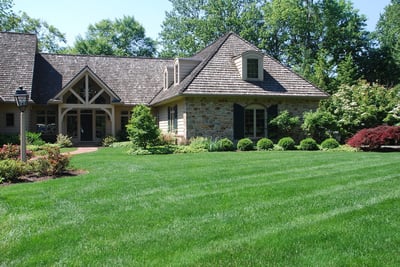 You love your lawn but you might also care about the environment and your impact on it. As a responsible citizen and member of the Lehigh Valley, you may have wondered are lawns good for the environment?
We get this question all of the time from homeowners in Allentown, Bethlehem, and Easton, PA. We know that you don't want your quest for a beautiful lawn to turn out to be detrimental to the natural environment. That's why we want to clear up some things for you and help you answer that nagging question that might be impacting your decision to pursue lawn care.
Are Lawns Good for the Environment?
The short answer is yes. Lawns are, in fact, very good for the environment. Despite news that you may have heard to the contrary, a healthy lawn actually helps to improve the environment in several key ways.
Here are some of the positive lawn environmental impacts you should be aware of, provided by research from The Lawn Institute.
Dust and smoke particles from the atmosphere are trapped by turf which helps to keep the air cleaner.
Pollutants in stormwater runoff can be absorbed by a thick lawn, decreasing the amount that makes it into the sewer system.
Carbon dioxide, sulfur dioxide, and other pollutants are absorbed by the turf which produces cleaner air.
The oxygen production of turfgrass contributes favorably to the environment. A 50 x 50 foot lawn produces enough oxygen for a family of four.
Noise can be absorbed by turfgrass, cutting down on noise pollution.
Lawn Environmental Concerns
The benefits discussed above make lawns a powerful contributor to a healthy environment. But it's important to note that these benefits are reliant on your turfgrass being thick and healthy. In order to achieve thickness and robust health, lawns require some extra help in the form of lawn care services such as fertilization and weed control.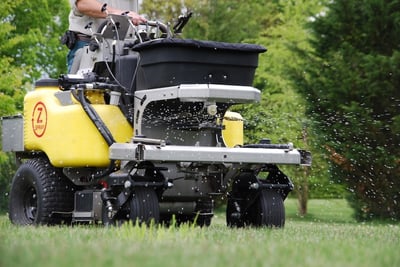 Ironically, it is these types of services where people start to have lawn environmental concerns. They may worry that the products being used to treat their lawn could be harmful to the environment in some way.
The truth of the matter is, when lawn care is performed in a responsible way, there should not be cause for concern. But it's important that you choose a company that takes extra steps in order to be responsible and cautious.
Some things that a responsible company might do include the following.
An environmentally conscious company will spot-spray weeds whenever possible. Although blanket treatments may be needed at first (until weeds are under control or during peak times), a responsible company will go out of their way to avoid treating more than is necessary.
There will be an emphasis on cleaning up the site when work is finished, such as blowing off any granular product that made it onto the walkway or driveway. Granules are blown back into the grass in order to be absorbed by the lawn.
They will exhibit thoughtful product selection and choosing products that will have minimal environmental impact.
A responsible company will also use preventative materials such as crabgrass preventer in order to prevent the majority of this weed's growth in the first place. This proactive approach will mean a lot less product application on the back end by drastically reducing the amount of post-emergent crabgrass spray needed. Similarly, by performing a preventative grub control application, a proactive company will avoid needing to put down the potentially less-safe curative product later.
They will also create buffers that would prevent any runoff into sensitive areas such as koi ponds, swimming pools, or gardens. A responsible lawn care company will think in terms of avoiding potential problems with your surroundings.
Professional Lawn Care is Responsible Lawn Care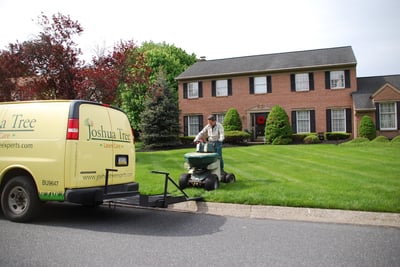 Ensuring that lawn care is performed properly (and therefore responsibly) is one of the key reasons why you should consider hiring a professional for your lawn care needs. The truth is, a lot of do-it-yourselfers don't actually know the mandated protective measures for utilizing lawn care products. That means they may ultimately do more harm than a responsible professional.
If you're someone that loves your lawn but also cares about the environment, then hiring a professional is a responsible step toward having the best of both worlds.
Of course, it's important that you do your homework and choose the best lawn care company for your needs. A well-established and professional company that employs well-trained technicians is likely also a responsible company that is conscientious of the environment.
A company like this is also going to maintain accountability for their technicians, making sure that they're actually following procedures. That means going as far as checking on their work.
Longevity of team members is also an important factor. You can feel confident that a company which has technicians who have been consistently safe over many seasons will continue to perform proper applications.
Conversely, a fly-by-night company that is just trying to knock out as many lawns as they can to make some extra cash might not be taking all of the necessary steps to be responsible. If they have a "revolving door" of employees, you can't have a lot of confidence that they have been well-trained and are performing applications properly.
Your Choice Matters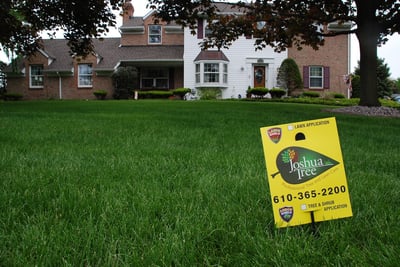 In the end, the choice is on your shoulders. You could either spend your time worrying about whether you're performing DIY lawn care responsibly—or whether you've hired a responsible company to do it for you—or you can feel confident that your lawn is in good hands. By putting in the research and knowing what kind of company you're hiring, you'll be able to make the best decision.
And that's important—to you, your lawn, and the environment.
Your smart choice in lawn care companies will alleviate any lingering lawn environmental concerns. And with a responsible and environmentally-conscious lawn care company performing professional services, you'll have thriving turfgrass that is contributing to the environment in a positive way.
If you'd like to find out more about our responsible lawn care services in Allentown, Bethlehem, or Easton, PA, which include three lawn care pricing options, then contact us for a free consultation or give us a call at 610-365-2200.