People are sometimes surprised to learn that just like us humans, trees and shrubs can be subject to various diseases. Unfortunately, there are a number of tree diseases that can wreak havoc on your landscape if left unchecked.

You want to feel confident that your trees and shrubs are going to perform their best…but tree diseases can cause a lot of trouble. As with diseases in humans, some tree diseases are more serious than others.

While some can be cured or managed, others are incurable or may even kill a tree.

One of the common diseases that we see on trees is Verticillium Wilt. Unfortunately, this one falls under the category of being serious…but there are still some steps you can take if your tree is infected.

In this article, we'll dive into some of the must-know facts about this disease including what you should do about it.
What is Verticillium Wilt?
Verticillium Wilt is a fungal disease that is common in deciduous trees. It lives in the soil and attacks susceptible trees and shrubs via the root system. Trees that tend to be commonly affected include Maples and Ash trees. It has also been known to affect Barberry, Elm, Linden, and more.
What Does Verticillium Wilt Look Like?
Verticillium Wilt is characterized in its early stages by heavy seed production, leaves that are smaller than normal, and browning of the margins of leaves.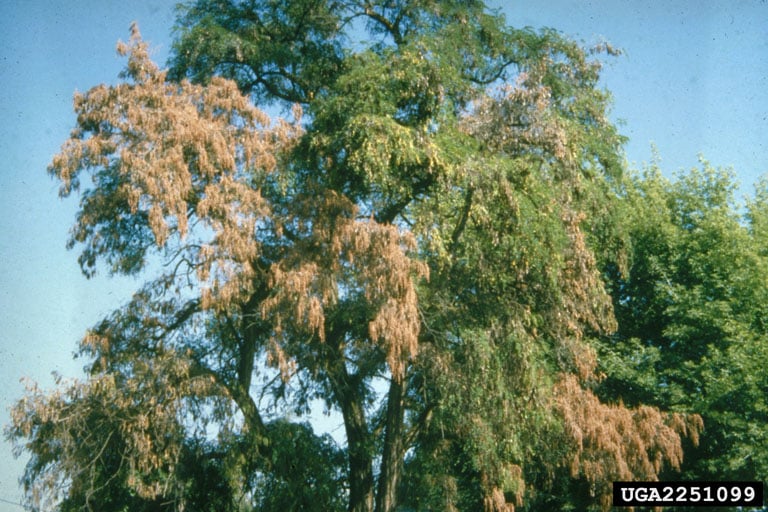 Oftentimes, the foliage on only one side of the tree will wilt. The wood under the bark of the wilting branches may appear discolored in streaks, a telltale sign of this disease.
How to Treat Verticillium Wilt
The bad news about Verticillium Wilt is that it cannot be cured. The best way to care for a tree or shrub that has Verticillium Wilt is to treat it with TLC to build up its resistance and hopefully prevent spreading.

This includes pruning off any dead or dying branches. Proper pruning is so important when it comes to preventing the spread of a disease.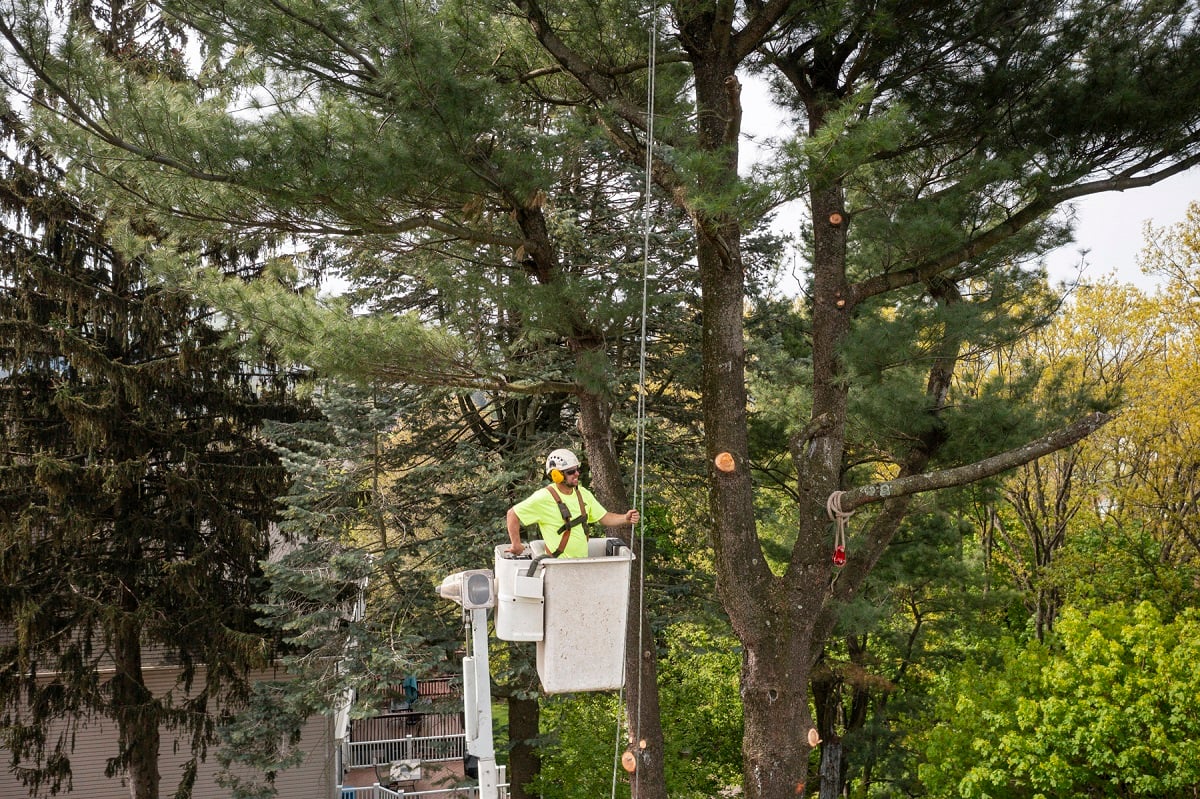 Other best practices include watering during times of drought, mulching, and keeping other insects or diseases under control. There are no fungal treatments recommended for Verticillium Wilt.

With good care, you can extend the life of a tree with Verticillium Wilt, but over time, it will eventually succumb to this disease. When that is the case, proper tree removal will be important. Removing trees can be complicated and serious business and you want to ensure that it is done safely. We'll talk more about that, below.
Working with a Tree Care Expert
Because Verticillium Wilt symptoms can mimic those of other tree diseases, a proper diagnosis is key. The best way to handle a disease will depend upon what you're dealing with. While Verticillium Wilt is a particularly difficult disease, others are not as serious and can be cured.

It's important to work with a tree care expert who will perform the proper tree disease identification to ensure the best treatment plan is executed.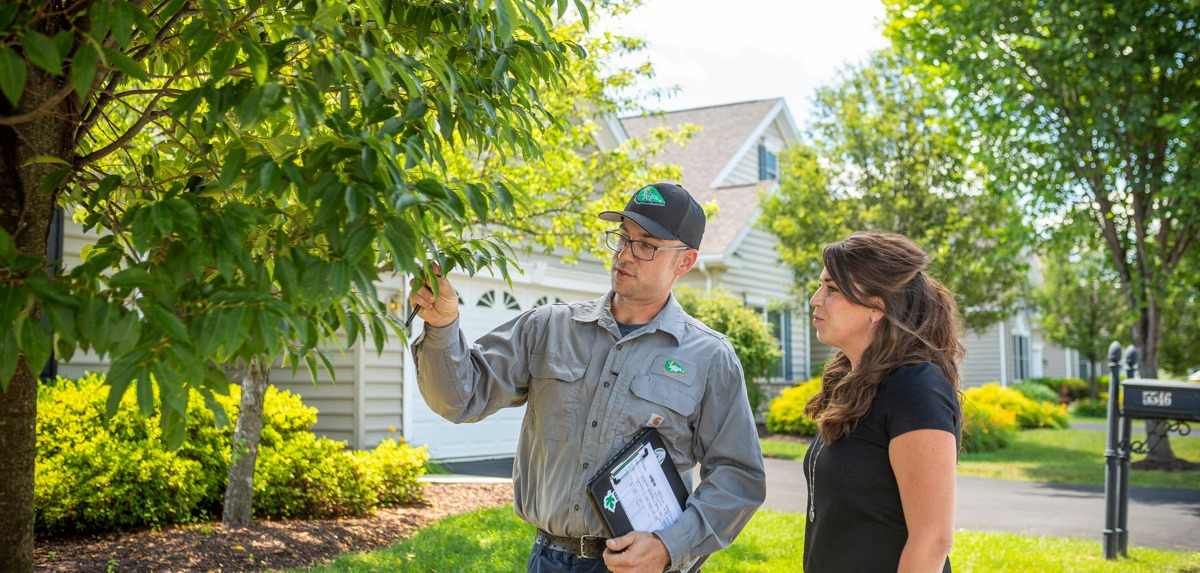 In the case of Verticillium Wilt, a professional can help you create a management plan to provide the best possible care for your tree. However, if it is determined that the tree is in bad shape, tree removal may be the best course of action.

While most homeowners wish their tree or shrub could be saved, they also appreciate a tree care professional that will be honest with them. This is important as not every tree service will be upfront about this information. In fact, they might even encourage you to get on a treatment plan, just so they can make money performing the work.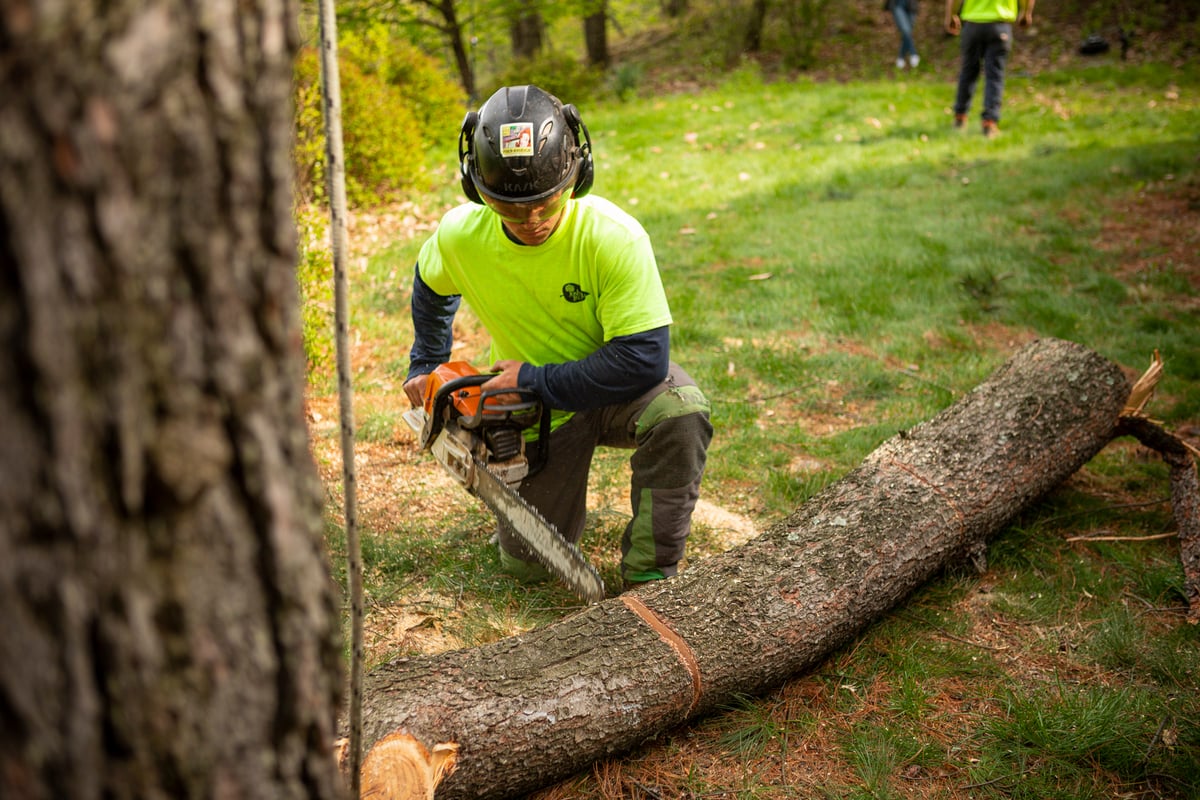 Often, for many trees and shrubs, investing in professional plant health care services in Pennsylvania makes a lot of sense. Plant health care combines valuable services like fertilization, pest control, and disease control (when applicable).

At Joshua Tree, we offer 3 options for tree and shrub care treatment packages to help improve your tree's health: a 4-step program, a 6-step program, and an 8-step program.

In order to determine which option is best for your landscape, we'll consider the species of the trees and shrubs on your property, the degree of potential damage or problems already present, and your expectations for protecting your trees and shrubs and improving their health.
Choosing Joshua Tree Experts for ALL Your Tree Care Needs in Pennsylvania
One thing that separates Joshua Tree Experts from other tree care providers is that we have Certified Arborists on staff. A Certified Arborist has been certified by a professional organization like the International Society of Arboriculture (ISA).

According to ISA, to earn their ISA Certified Arborist credential, you must be trained and knowledgeable in all aspects of arboriculture. ISA Certified Arborists must also adhere to the Code of Ethics that strengthens the credibility and reliability of the workforce.
A lot of tree services talk about being highly qualified and experienced but they don't have the certifications to back up those claims—or maybe they have one or two team members with certifications and try to play those up even though most of the team is not.

But without a large majority of team members holding certifications, it makes it difficult for homeowners to have any way to substantiate claims about knowledge and training.

Tree issues like disease can be complex and you really do need an expert to make the diagnosis and implement a treatment plan. Having a Certified Arborist from Joshua Tree will help you feel confident that all your tree needs are properly met.

At the end of the day, your wise choice in selecting an experienced tree service in Pennsylvania will allow you to cast your fears aside. With a true tree care expert handling your mature trees, there simply won't be any reason to worry.

If you're interested in having your trees inspected at your Lehigh Valley or Bucks or Montgomery County, PA home so that you can gain some peace of mind, contact us for a free consultation or give us a call at 610-365-4858 so that we can answer your questions.

Image Source: Verticillium Wilt