When you think about the lawn care services that you'll need to achieve a thick, green lawn, fertilizing is likely high on the list. Most homeowners know that incorporating lawn fertilizer into their lawn care program is important. But it's also important to remember that in the grand scheme of things, it's just one of multiple services that matter.

The truth is, we find that homeowners don't always know about everything that goes into a thick, green lawn. Fertilizing is certainly critical—but what else is needed to get amazing results?

Lawn care can be a lot more complicated than people tend to realize.
Video: The Best Ways to Get a Green, Healthy Lawn
We've rounded up some of our best tips on how to achieve the glorious, carpet-like lawn you've been dreaming about! We'll give you the facts you should know about how to get greener grass.
1. For a Green Lawn, Fertilizing Products Can Differ Dramatically
If you want to make grass green, there's no question that fertilization is important. But did you know that the quality of fertilization products can dramatically differ? It's not uncommon for people to believe that all fertilization products are essentially the same. But the truth is, the products that you can pick up in a big box store are not going to be of the same high-quality, professional-grade as those that a lawn care company is utilizing.

Of course, even from company to company, there can be major differentiation. It's important to make sure that your lawn care company is investing in high-quality products as it's going to impact the type of results that you get.

At Joshua Tree, we are not only investing in high-quality, commercial-grade fertilizer but we are also using biostimulant additives with our lawn fertilizing program. Biostimulants are organic materials that when applied in small quantities, enhance plant growth and development. This is an added benefit that provides you with a lot of value out of your investment.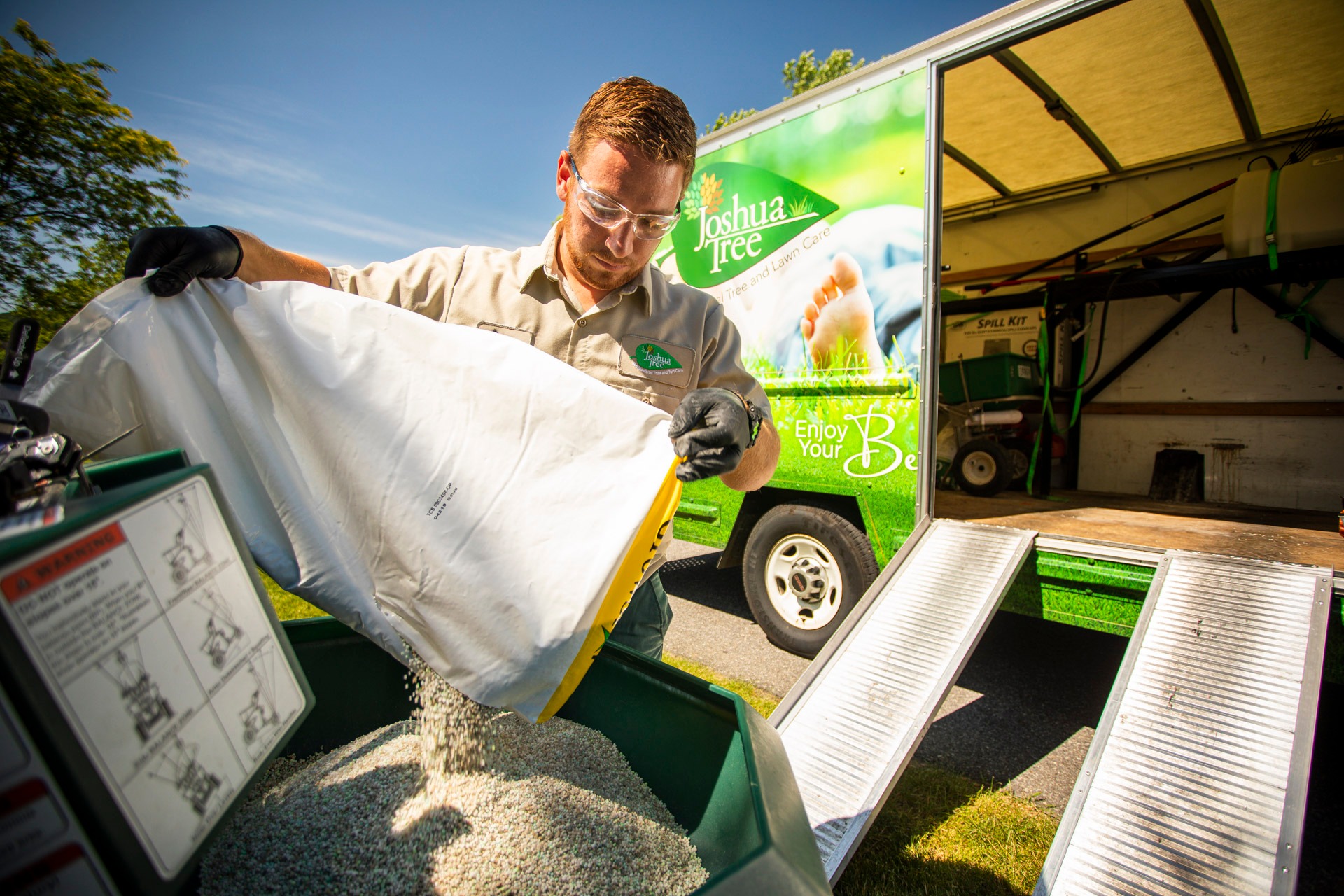 It's also important to mention that we have found there are some misconceptions around organic lawn fertilization. It's not uncommon for homeowners to assume that organic automatically means better. But this is not necessarily the case with organic lawn fertilization.

This article goes in-depth explaining the differences between organic and synthetic fertilizers so that you can better understand what works for your lawn.
2. To Make Grass Green, Thicker, and Fuller Proper Timing is Important, Too
On the same token, the timing of fertilizer applications also matters to make grass thicker and fuller, and of course, greener. Even if you purchase a high-quality fertilizer, if you apply it at the wrong time, it's not going to do you much good. In fact, it could even cause harm.

Unfortunately, this is a fact that even some lawn care companies tend to overlook. They may underestimate the importance of applying fertilizer within the optimal time frame and simply put it down whenever it works for them.

In reality, applying it at the wrong time of year (or at the wrong rate of application, for that matter), is going to lead to poor results or potentially even cause lawn damage. If you (or your lawn care company) are applying fertilizer and not seeing the results you desire, it could be a matter of an improper application.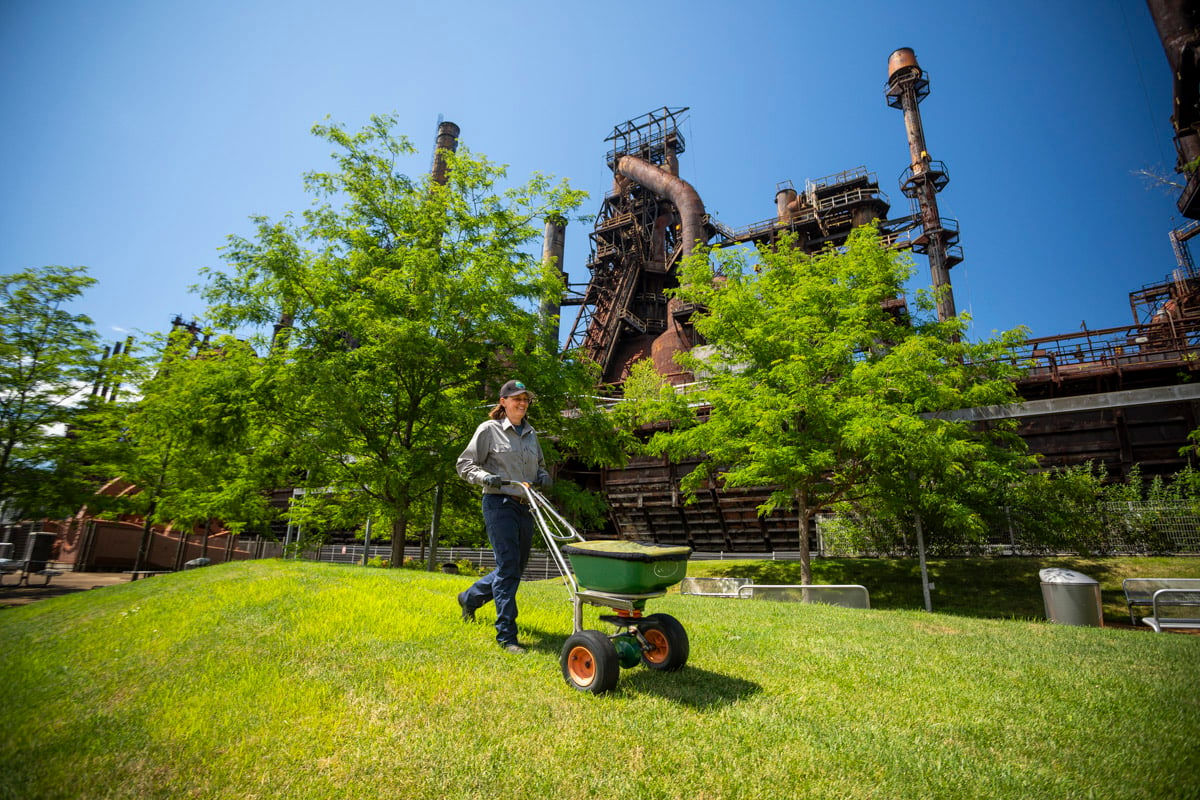 3. For a Green Lawn, Fertilizing is Important, But it isn't Everything
As we mentioned at the start, we know that lawn fertilization is one of the most-known lawn care services and the one that people tend to associate with how to get greener grass. But it's ultimately a combination of multiple efforts that helps to produce a thick, green lawn. Although a critical service, it's important that homeowners recognize fertilizer is just one piece of a larger puzzle.

Among those vital services, effective weed control is huge. We continually battle many different types of aggressive weeds that not only make the lawn look less attractive but actually impact its overall health. When we are able to get weeds under control, other lawn care products that are applied (like fertilizer) can more effectively do their job.

Similarly, lawn aeration and overseeding are also vital services. Lawn aeration works by making small holes in the lawn by pulling out small soil plugs (called "cores"). This allows more oxygen, water, and nutrients to penetrate deep into the soil where they're needed most. That includes fertilizer! Fertilizer can do a lot more good when it's able to penetrate down to your lawn's roots.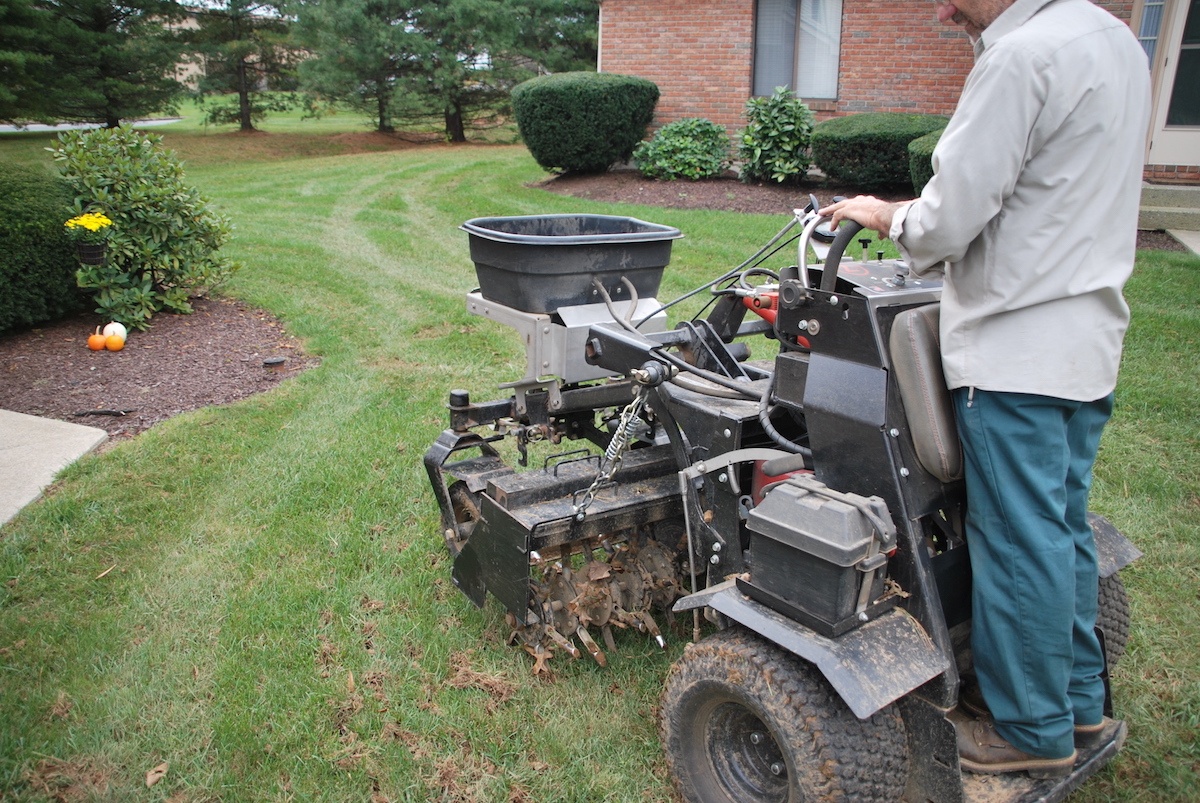 Of course, proper watering and mowing are also important.

All of these different services work in tandem to help produce a green lawn. Fertilizing is just one of them.
4. Partner with a Lawn Care Pro to Make Grass Green, Thick and Healthy
At the end of the day, it's important to remember that if you don't have a green lawn, fertilizing alone is not going to transform it. There are many reasons that your lawn may not be as thick and as green as you wish. Even factors like disease, lawn insects, and drought can come into play.

This is why it's critical that you partner with a lawn care professional.

The value of a lawn care professional is not only the professional-grade products (like high-quality fertilizer) that they can apply but also their knowledge and experience. They'll implement best practices to ensure that your lawn care program includes everything that it needs to get the amazing results you're after.

Plus, you'll gain access to their professional diagnostic skills. If you're experiencing lawn problems and you can't figure out why your turf isn't as thick, green, or healthy as you desire, a pro can help get you on the right track.
Ready to Make a Wise Choice in Lawn Care?
If you're ready to have a thick and green lawn, then your choice in lawn care companies is going to make a huge difference. Everything from the products to the methods used can end up impacting your results. But choosing the best company with the best lawn care program will help get you on your way to the amazing lawn that you desire.

That means instead of worrying about why your lawn isn't as healthy as it could be, you can start enjoying it to the fullest! When you make a wise choice in lawn care, you ultimately also cast your worries aside and get back to enjoying your property the way it was meant to be enjoyed.

If you're looking for more advice on how to get the best lawn results, we're always available to be a resource. We want your Allentown or Lansdale, PA lawn to be spectacular. Get in touch with us to get some free expert advice and learn more about our lawn care programs which include three lawn care pricing options.