When it comes to having a healthy and thriving lawn, there are a lot of enemies lurking about, trying to thwart your best efforts. There's nothing more frustrating than feeling like you've done everything you can for your lawn, only to have it succumb to various lawn problems.

One of those potential enemies is Pythium Blight, a highly destructive lawn disease.

Pythium Blight tends to spread rapidly and is most common during hot and humid summer weather.

Because we know you care about your lawn and don't want to see it succumb to problems, we are here to help.

The more you understand about potential lawn problems, like Pythium Blight, the better you'll be able to deal with them.
What Does Pythium Blight Look Like?
This disease first appears as small, irregularly shaped spots ranging from a half-inch to 4 inches in diameter. Initial symptoms also include water-soaked leaves and stems.

In fact, it has gotten the nickname "grease spot," since it looks like a grease stain on the grass. You might notice that the lawn looks wet, oily, or greasy.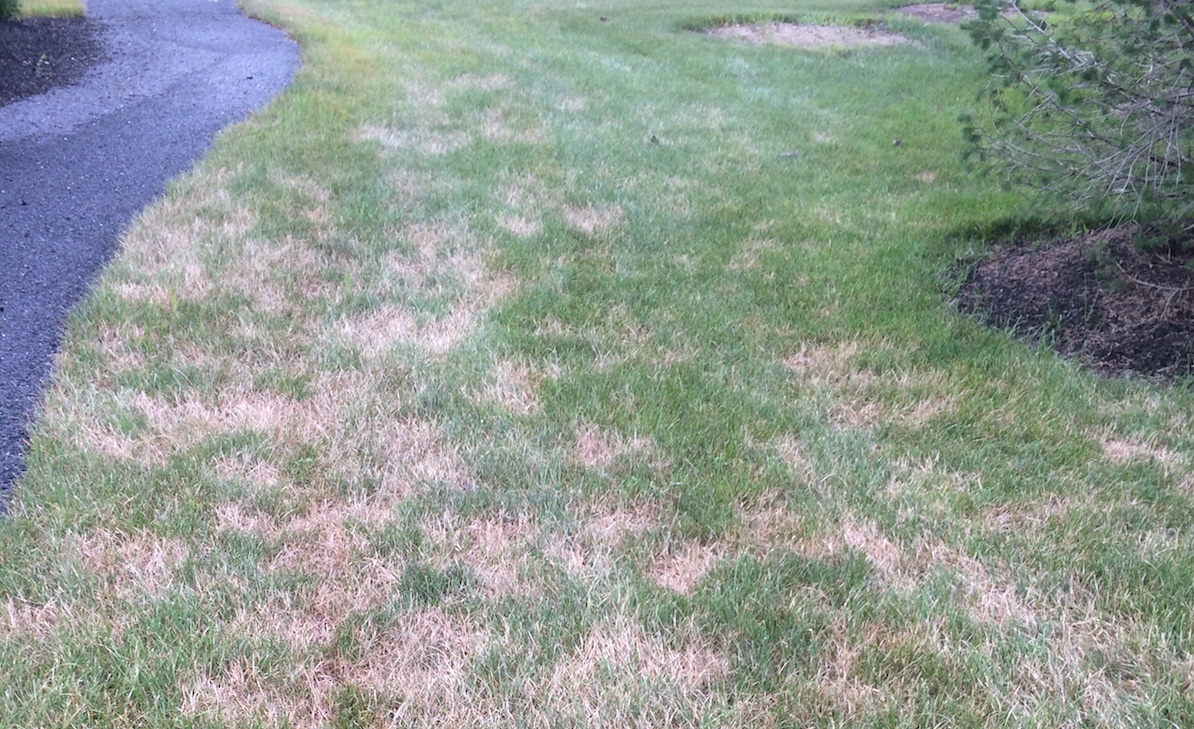 In addition to these greasy spots, white cottony masses can also appear during the later stages of the disease. Some have said that these resemble cotton candy. For that reason, this lawn disease is also sometimes called "Cottony Blight."

The infected turf areas also become matted. Pythium Blight has been known to spread very quickly during periods of high humidity. Eventually, areas of infected grass can wilt, dry out, and die.

Dead patches may appear in circular or irregular shapes throughout the lawn.
How to Treat Pythium Blight
Treating any lawn disease begins with a professional inspection to determine the best course of action.

It's important to have a pro diagnose your lawn disease. Even though we have answered what does Pythium Blight look like, the truth is that many of these lawn diseases do resemble one another and misidentification is common. If you spot something going on in your lawn, you should connect with a lawn care professional.
You want to make sure that a pro has properly identified the lawn disease you're dealing with before starting any treatment.

In some cases, fungicides might be needed but it really depends on various factors, including how bad the damage is.

It's important to know that fungicides will not cure a lawn fungus problem (or fix the damage that is already done). It will only prevent the fungus from spreading further.

That being said, you could need Pythium Blight treatment if it's a severe case and spreading rapidly.
A Healthy Lawn that "Fights Back"
The good news is that oftentimes, with Turf Type Tall Fescue (which is our choice for the best seed), Pythium Blight does not usually tend to do a lot of damage.

There are other turf types that are much more susceptible to this disease. Bermudagrass and ryegrass can have a much more serious problem with Pythium Blight.
This is one reason why regular aeration and overseeding with better grass types is a wise move in promoting thick and healthy turf that is less susceptible to problems with disease. Oftentimes, a healthy lawn can fend off disease on its own and you won't even need Pythium Blight treatment.

If you've dealt with a case of it, sometimes we can help you to repair those dead patches and then move forward with better lawn care habits that will hopefully prevent diseases from spreading in the future.

In general, keeping up with professional lawn care can make a huge difference. In addition to aeration and overseeding, services like lawn fertilization and weed control that help to promote a thick and healthy lawn will also help it better fend itself against lawn disease.
Investing in Lawn Care in Pennsylvania
So often, the health of your lawn comes down to the lawn care program that you're using. This is why choosing the right lawn care company is so important.

At Joshua Tree, we offer three lawn care programs so that you can find the one that best suits your needs and helps you to promote a thick and healthy lawn.

This will help you to have peace of mind that your lawn is in good shape to fight back against a disease. And if a lawn problem like Pythium Blight does start spreading, you'll also have access to professional help to ensure you're taking all the right steps.

One of the added benefits of working with professional lawn care in Pennsylvania is that you'll have a regular "eye" on your property looking for problems. But we also value communication and always love to hear from our clients between visits if they think that something might be wrong.

At Joshua Tree, we believe it is our partnership with clients that helps ensure an easy lawn disease diagnosis and get a plan of action in place right away. Our goal is always to provide the best lawn care possible and we're able to do that by working together.

If you'd like to know more about how Joshua Tree can help meet your lawn needs at your home in the Allentown or Lansdale, PA area, or you have more questions, we're here to help! Get in touch with us to get some free expert advice and learn more about our lawn care program options.