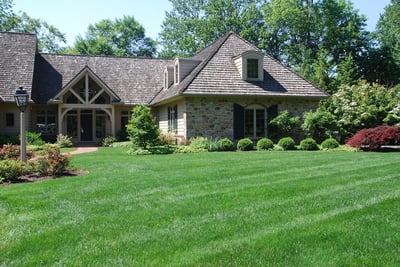 Choosing a lawn care company can become more complicated than you may think. There are so many options to choose from and a lot of research to do to make a great decision.
But it's important to go through that hard work. Being able to compare one company to the next will allow you to make the best decision for your lawn—and that's your end goal. After all, choosing the best lawn care company should equate to getting the best results.
These days everyone wants to be informed. And with the internet available at your fingertips, it's now easier than ever to educate yourself. Whether you're looking for a product, a service, or even a company, you can instantly find out information about whatever it is you're researching.
It's no different when it comes to reviewing lawn care companies in Allentown, Bethlehem, or Easton, PA.
While it may be easy to find information, filtering out the stuff that really matters from all the extra junk that's often mixed in, is going to be important in performing a smart search that ultimately leads you to the best possible results. Understanding what to look for in the lawn care reviews that you read (as well as where to look for them) will go a long way in helping you make the best decision.
Using
Lawn Care Reviews
to Research
Lawn Care Companies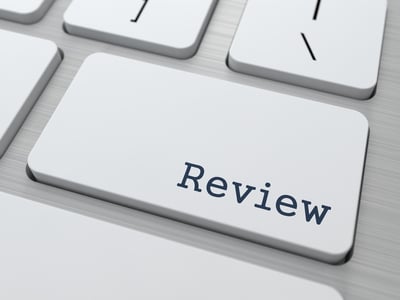 Consumers like yourself give online reviews a lot of weight. In fact, recent research shows that 84 percent of people trust online reviews as much as a personal recommendation. That's a big deal. It means that many consumers are making their decisions whether to hire (or not hire) a company based on what other people are saying—even though they don't know them.
While online reviews are undoubtedly valuable, you have to know what you're looking at. Not all reviews (or review forums) are created equal and there are some important points to consider as you peruse what's out there.
To help you narrow it down to what matters most, here are some important questions that you should ask as you read online reviews.
How old is this review?
If the lawn care companies you're researching do not have any recent reviews, it should raise a red flag. Are they still active? Are they still servicing customers? Or has something changed with the company that isn't provoking more recent, positive reviews?
Research shows that consumers want to read recent reviews and that the older a review is, the less relevant they consider it to their research of a company, product, or service. That's because you don't want to know how a lawn care company performed five years ago, with what might even be different team members. You want to know how a lawn care company is performing right now within your community.
Is this a review in my service area?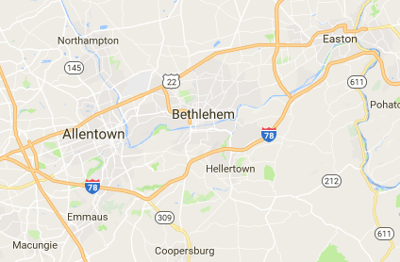 Ok, this may seem like an obvious one but there are a lot of lawn care companies out there with the same name and you could very easily be looking at a company in an entirely different state without realizing it. The internet is great for connecting folks to companies around the world but when it comes to finding lawn care companies in Allentown, Bethlehem, or Easton, PA, make sure that you're actually reviewing companies in those service areas.
Similarly, it's also important to note that some companies are franchises or national brands and while they may display positive reviews from around the country, that doesn't mean your local branch necessarily has a great reputation. That's another good reason to be sure you're searching locally.
What kind of ratings does this company have?
The star rating system remains the number one method for customers to provide ratings of a company they've hired. Most ratings are done on a scale from one to five, with five being the most possible stars a company can earn. If you're looking for the best lawn care companies out there, then you should be looking for companies that have a four-star or five-star rating.
But note that the more reviews a company has, the more valid that rating is going to be. For instance, two five-star reviews means they have 2 happy people—and that's okay but it's hard to garner much information out of just two reviews. However, the company with 40 reviews and a 4.7 score is much more meaningful. It means a lot of people are highly satisfied with their service.
How does this company respond to negative reviews?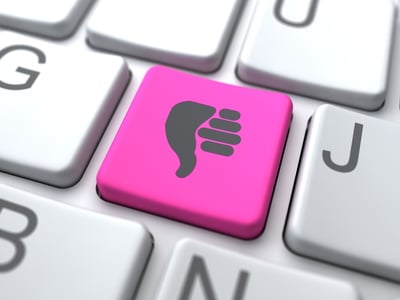 Let's be honest, even the best companies are occasionally going to get a bad review. That's just part of doing business. But what you should look for, as the consumer, is how the company responds to those less-than-stellar reviews. If the customer is complaining about a mistake, does the company mention that they went back and fixed it?
Does the company make a point to offer ways that they can solve the problem or have they perhaps even solved it already and the customer is still not happy? There are always going to be customers that simply are impossible to satisfy. But what you really need to look at is how the company responds to any complaints they've gotten. It's often very easy to recognize whether the company is truly at fault or a client is just difficult.
How many negative reviews does this company have?
While it's true that even the best companies can have a negative review from time to time, it should still raise a red flag if the company you're considering has a lot of them. One after another is a whole lot different from one bad review here and there. If there are a lot of bad reviews then there is probably a reason for it and you may want to steer clear.
Too many bad reviews will also drag the company's overall score down. Recent research shows that while 94 percent of consumers would use a business with a four-star rating, that number drops down to 57 percent for a three-star rating. And only 14 percent of consumers would consider using a business with a one- or two-star rating. It's simply too risky.
Lawn Care Reviews
to Consider in your Search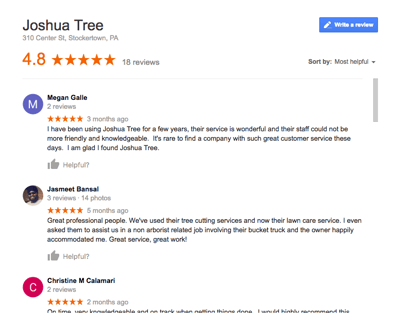 There are obviously a lot of third-party review sites out there. Here are some of the most popular platforms that real-life customers are using to review companies. As you research lawn care companies in Allentown, Bethlehem, and Easton, PA, be sure to check these out.
Google Reviews
Google is quite often one of the first points of contact that a consumer has with any given business. After all, who do you tend to turn to when you begin research? Most folks would say "Google." Google Reviews was born for that very reason—so that when a potential customer searches for a business, they can also see reviews of that business.
Google Reviews allows companies to create a free online profile about their business. Customers are then able to write reviews and provide a rating based on a five-point scale. This is an excellent spot to look for lawn care reviews.
HomeAdvisor
Formerly known as "ServiceMagic," HomeAdvisor is touted as a one-stop-shop for consumers seeking contractors for services both inside and outside of their home. While HomeAdvisor also allows companies to create free profiles about their business, unlike Google Reviews, this site is solely focused on home services. The profiles are free, but companies do have an option to pay a fee in order to be in circulation for leads that the site generates. This is another good place to read through online lawn care reviews.
Yelp
Yelp is quite different from these other two platforms in that it only publishes a review when a user has already written at least eight others. That's often why even good companies may have very few Yelp reviews—or may even have a bad review. Generally speaking, Yelp reviewers tend to be more critical than those from other review sites. Sometimes the folks that go out and write a ton of reviews (and reach that 8 review minimum) are the ones that simply aren't happy about anything. Tread more cautiously when searching on Yelp for lawn care reviews.
Facebook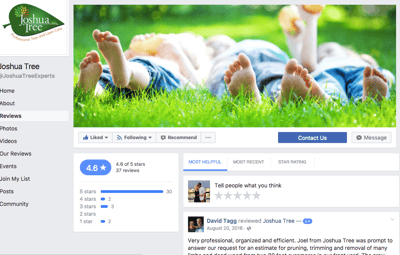 These days more people are also using Facebook to research companies so the social media site has created a review tool to allow customers to provide ratings on a five-star scale. Customers can also provide comments when they review a company. This is another place to see lawn care customer reviews about a company you are considering.
Miscellaneous Review Sites
Of course, these are not the only review platforms out there, just some of the most well-known ones. There are many other miscellaneous review sites that are focused on gathering customer lawn care reviews of service companies. Sometimes these miscellaneous sites may charge companies a fee in order to automatically send out feedback requests to clients after services are performed. This is one of the ways lawn care companies are able to keep up with requesting reviews from their customers.
A Word About Lawn Care Testimonials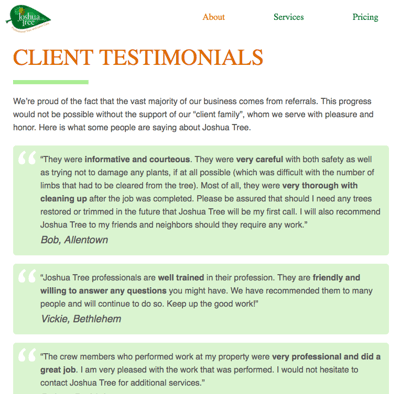 Testimonials are different from third-party reviews in that the company has done the legwork. They've likely asked their best customers to provide a review of their company so that they can share that information on their website.
While you might give more credibility to the third-party reviews that you read about the lawn care companies you're researching, it's still worth checking out the lawn care testimonials that they've gathered. Even though it seems obvious that a company would provide testimonials on their website, you might be surprised how many do not have any listed at all.
If a company you're researching does not have testimonials on their website that should raise a red flag. It may mean they couldn't be bothered with gathering them, even though it's a helpful resource for potential customers. That should make you question their commitment to customer service. But even worse, you have to wonder if a company has no testimonials on their website because they couldn't gather enough positive ones. That's a definite red flag to steer clear!
Other Research to Make an Educated Decision
While reviews are important, they aren't everything. You could find a company that has a lot of positive reviews but really isn't that great. In addition to using online reviews, you should also take time to delve into the websites of the lawn care companies you are researching. Do they have deep and meaningful content on their website that shows they are committed to educating their customers? Is that content current? Those points are really important, too.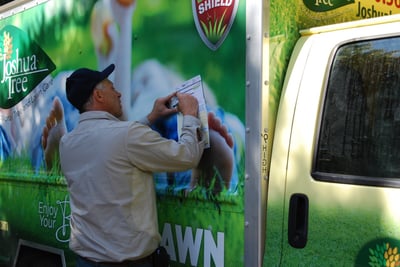 In addition, you should also have a company representative come to your home and provide a consultation about your lawn. The combination of researching lawn care reviews, reading through the website, and having a free consultation should provide you with a thorough background on any company that you're considering. Doing this research on the front end will also prevent you with problems down the line as you become another happy customer of the four- or five-star company that you've selected.
There are a lot of lawn care companies in Allentown, Bethlehem, and Easton, PA and many of them have good reviews. At Joshua Tree, we definitely strive for great reviews. That's because we're in the business to please people. We take extra steps to go above and beyond when it comes to our customers. One way is by doing a lot of free service calls where we'll check in with you just to make sure your lawn is doing well in between visits. That's something most lawn care companies wouldn't be bothered doing. And if there ever is a problem, we go out of our way to fix it right away.
You have a big decision ahead and choosing wisely will be important to whether you end up writing a good review or a bad review of the company you ultimately choose for yourself. If that process is something that we can help with, then we're here to answer any questions you may have.
If you'd like to find out more about Joshua Tree, contact us for a free consultation or give us a call at 610-365-2200 so that we can chat.