VEGETATION MANAGEMENT SERVICES
Uncontrolled weeds and vegetation can not only be unsightly at your commercial property. It can also create hazards and damage. Plus, aggressively-growing grass, weeds, and brush are not as easy to manage as facility managers first assume.
Some vegetation doesn't seem to die quickly enough and others return just as fast as they've initially wilted after treatment. You have a lot of responsibilities at your facility and learning the art and science of vegetation management isn't at the top of your list.
You're not alone. Many of our commercial clients have had similar frustrations. The team at Joshua Tree has proven solutions to help.
Services Offered
Here at Joshua Tree, our vegetation management services are designed to take care of initial problems and proactively reduce future pressure from weeds, brush, and grasses. Some preventative and curative applications include:
Spraying fence lines
Treating gravel areas
Applications to cracks in pavement
Treatments for landscape beds
Spraying borders of wooded areas
What Makes Joshua Tree Different Than Other
Vegetation Management Companies
?
If you're looking for vegetation management companies in Allentown, Bethlehem or Easton, PA you will find there are not a lot of options.
There are big, national companies that travel hundreds of miles to perform this type of work and some local companies that may not have a lot of experience with the dozens of materials and applications necessary to be successful. Vegetation management is truly an art and science.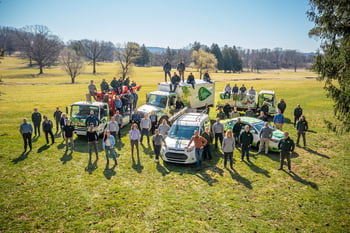 In some cases, spraying brush and saplings is only part of the solution. What do you do with the dead woody plants afterward? Fortunately, we also offer tree removal services should any of these plants need cut down and disposed of. If you're like other commercial properties we service, you may also need assistance with lawn care or plant health care. We can help there, as well.
Here at Joshua Tree, it's just as important to us that we find the right commercial property managers to partner with. Sure we can get rid of grass, weeds, and brush, but at the end of the day what's important is a relationship. Ask any of our clients, and you'll soon learn that we are all about building our company one happy client at a time.