LAWN MAINTENANCE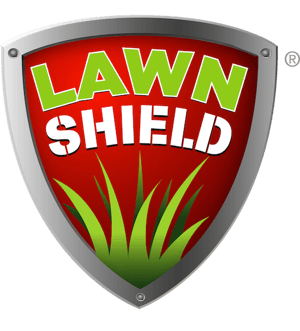 The programs for lawn maintenance in Allentown, Bethlehem or Easton PA homes can drastically vary between providers. Lawn care companies create programs to address primary concerns and create these packages with scheduled visits that occur from early spring until late fall.
When comparing lawn maintenance programs from one company to the next, it's important to evaluate these programs as a whole, with compiling a list of covered items in their visits.
Lawn Maintenance
Programs from Joshua Tree
Our clients choose from one of three different lawn care programs. These programs are specifically designed for lawns in Allentown, Bethlehem, Easton PA and surrounding areas.
All of our lawn maintenance programs include organic-based bio-stimulant fertilizer. This material is not a commonly used product by most lawn care companies and it will promote a healthier lawn than using synthetic fertilizers.
Free service calls and follow-up evaluations are also included in all of our programs. Here are some basic descriptions of our three options:
Basic
Lawn Care
Program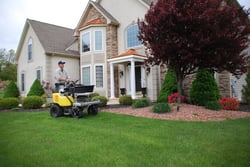 This five-visit lawn maintenance program is a good choice for homeowners who are looking to provide some nutrition for their lawn throughout the year, as well as address the most typical lawn care challenges.
This program includes custom tailored broadleaf weed control and both pre- and post-emergent crabgrass control materials.
Traditional Lawn Care Program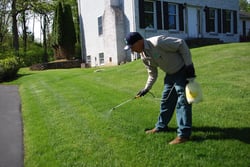 This program includes the five visits of the Basic program with the addition of an additional visit to make up this six-visit program.
Our Traditional Lawn Care also includes a preventative grub control treatment that will protect your lawn all season long from these destructive larvae feeding on the roots of grass plants.
Premium Lawn Care Program
Our most proactive lawn maintenance program, the Premium program includes all of the other programs' treatments, with two more valuable services.
A limestone application and a core aeration with over-seeding makes this eight-visit lawn care program an ideal choice for anyone who has a passion for growing a thick, green, weed-free lawn.
Lawn Care Pricing &
Lawn Maintenance
Programs
Want to compare our lawn maintenance programs side by side and see some lawn care costs? Check out our handy comparison tool, let us know which program interests you, and one of our team will be in touch to set up a time to visit your property to discuss our services and how they may compare to any other options you may be pursuing.