Whether you just moved to a property that is heavily shaded or you've been struggling with a problem for years, growing grass in the shade can pose a lot of challenges. Many people want to know how to grow grass in shade.
Sunlight is an important element of your lawn's health and without it, grass simply won't thrive. In shade, grass tends to grow thin and lose its lush green color. It may also become more susceptible to environmental stressors. Even your grass roots will begin to suffer as they struggle to grow in shade.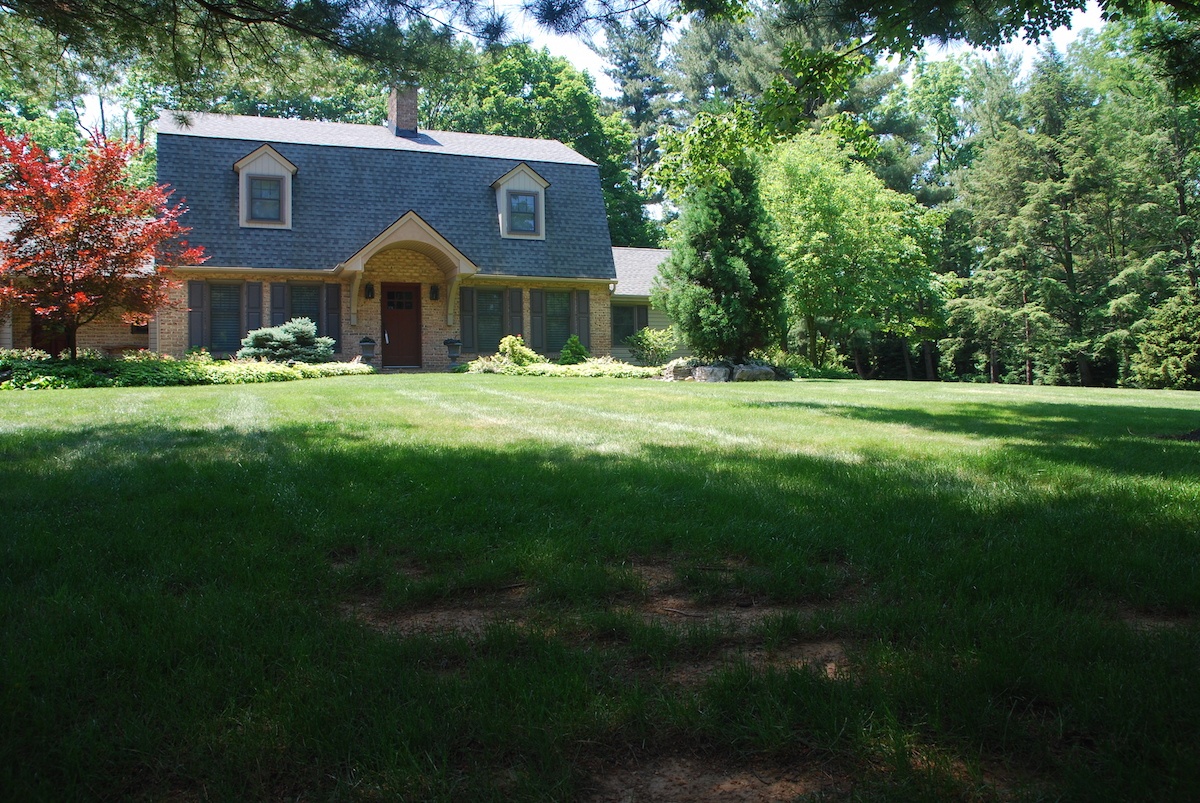 If you've been trying to grow grass in shade under trees, chances are you're frustrated. You're not having a lot of success and you're looking for a solution. It's important to approach the problem with realistic expectations. More often than not, misconceptions lead homeowners to false hopes about what they can achieve on their shaded lawn. Still, you don't have to be stuck with a lawn that you don't love. There are solutions that will help with growing grass in the shade.
Grass Seed Mixes for Shaded Lawns
First and foremost, it's important to understand grass needs. It's a common misconception that shade grass seed mixes don't require much sun to grow. The truth is that even shade mixes require about 5 to 6 hours of sunlight each day in order to grow their fullest. Shade grass seed is simply more tolerant of the shade than sun varieties like Kentucky Bluegrass, Perennial Ryegrass, and Turf Type Tall Fescue.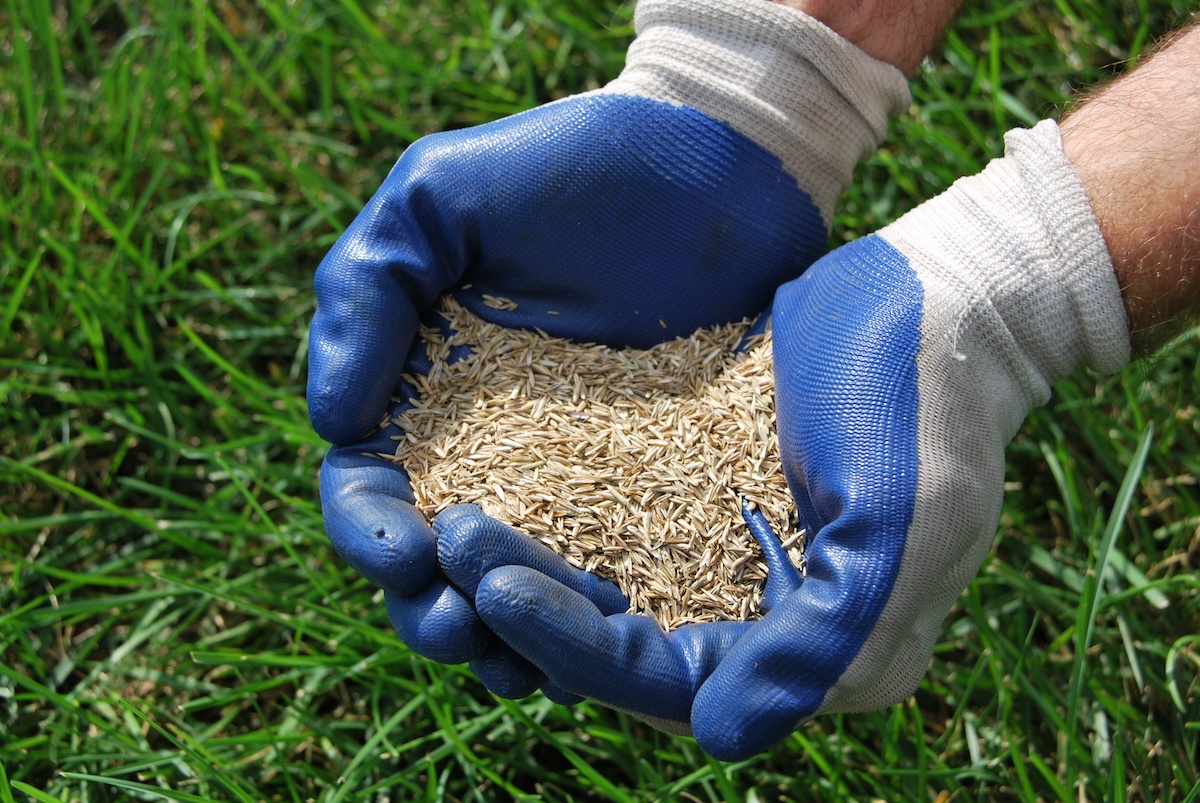 Typically, shade grass seed mixes come with several types of fine fescues suited for less sunlight. If you're putting down grass seed in shaded areas, you'll need to start doing it before you even think it's needed as grass in shade tends to decline slowly. Overseeding should be a regular part of your fall routine.
Fertilization & Weed Control For Shaded Grass
You must also treat your grass in shaded areas more cautiously. Shade grass will get stressed if over-fertilized or over-treated with herbicides (including both pre-emergent and post-emergent). Instead, you should only spot treat as needed. There is also no need for crabgrass control on grass in shade under trees, since crabgrass only grows in sunny areas.
Dealing With Tree Roots in Grass
Grass under trees can pose other challenges, as well. For one, it can be tricky to mow. If you have large trees with large surface roots, it can be very difficult to mow without damaging the roots (or maybe your mower!). Those roots will also contribute to the challenge of growing grass. In general, grass under trees tends to compete for nutrients and moisture with the trees as a big tree needs a lot to survive.
Solutions For Your Shaded Lawn
1. Tree Pruning
One approach to growing grass in the shade is to help get your lawn more sunlight. This can be done with tree pruning services, at least to a point. Often trees grow together or near a structure so as trees grow, there is less and less light reaching the lawn. This can be minimally remedied with trimming in order to allow some filtered light and to raise the canopy to get some early or late sun to areas underneath.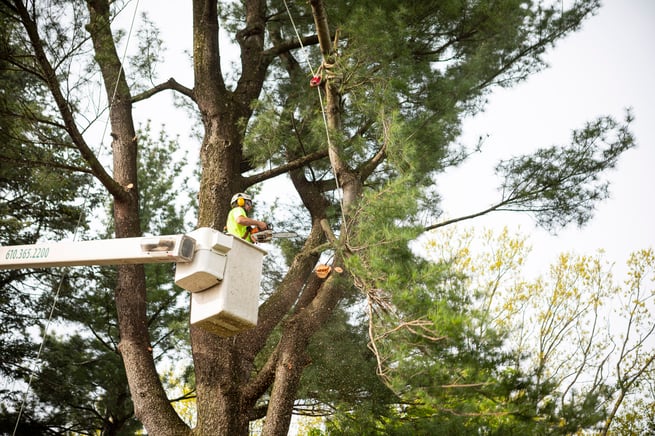 2. Grass Alternatives
You might also consider some grass alternatives instead of continuing to battle with growing grass in the shade. Creating large mulch rings around a tree, using decorative gravel, or even establishing plant beds with shade perennials and shrubs are some alternatives to traditional grass that still look beautiful and contribute to the overall aesthetics of your lawn. It's important to accept that in some cases, the trees in your yard are going to win. Assuming you don't plan to remove your trees, you might want to consider these alternatives.
A Lawn & Tree Care Provider With Many Options
Of course, removal is an option. At Joshua Tree, we can assist with tree removal if you feel that's in the best interest of your lawn. We can also help with tree trimming, lawn seeding services, and providing proper lawn care for your shaded areas.
Watch This Video on Growing a Healthy Lawn
Sometimes shady lawn areas can be improved and maintained without taking drastic measures. We'll also be honest with you and let you know if we believe grass isn't going to work on your shaded lawn.
But we'll also suggest some alternative options like a larger mulch ring or a planting bed. While it might not be what you initially expected, we'll work with your ideas and find a solution that meets your needs so that you can go back to loving your lawn again.
If you'd like to find out more about growing grass in a shaded area, or finding an appropriate alternative for your Allentown, Lansdale, or Collegeville, PA lawn, contact us for a free consultation or feel free to give us a call at 610-365-2200.