If you know you need tree work performed but are not sure who to call, then you might be searching online for the best tree service near me. What you'll likely find is that there are a lot of choices out there. You may be worried that by choosing the wrong company in Allentown, PA, it could mean big problems.
After all, you don't want your tree work to mean a lot of extra hassle—or even worse, you don't want your tree work to become a horror story like you might have heard from others.
Video: How to Find the Best Tree Service
Whether it's an outrageous price, a poor-quality job, a company with unprofessional workers, or even a dangerous mistake that causes damages, the last thing that you want is to deal with any added stress. You ought to be able to choose a tree company that will offer a fair price, excellent service, and no unwanted surprises.
We understand that choosing a tree service in Allentown, PA can feel intimidating. We also recognize that some companies in our region are better than others and you may not be sure how to pick them out. That's why we've rounded up a list of some of the best tree services in Allentown, PA so that you can weigh your options and choose the company that is right for you.
1. Monster Tree Service Allentown PA
Chances are, you've heard of Monster Tree Service in some capacity—even if not in the Lehigh Valley. That's because Monster is a national franchise. The company got its start in 2008 and has since grown to 29 franchised outlets in 10 states throughout the United States. Their services include plant health care, tree pruning, and tree removal. As a large national franchise, they are bound by certain prescribed guidelines from the national company.
2.
Belles Tree Service
Belles Tree Service was started by Craig Belles who recognized that there was a lack of tree service businesses in the area and decided to starts his own company. Belles offers plant health care, pruning, and tree removal. We respect Belles' hard work in growing a company from the ground up, much as we did.
3.
Witts Tree Service
Witts Tree Service was founded in 1976. While they do offer some plant health care services, they've become primarily known in the Lehigh Valley for their tree removal work. Thayer Crane Service is a subdivision of Witts and offers crane services to lift and move objects at an hourly rate. The company also offers snow removal services.
4.
B
artlett Tree Experts Allentown, PA
This is another big name tree company—even bigger than Monster, in fact. Bartlett has more than 100 offices worldwide and provides both residential and commercial services. The company offers a range of tree services in Allentown, PA including pruning, insect and disease management, and storm damage repair.
5.
Jacob's Pro Tree and Shrub Care
Jacob's Professional Tree and Shrub Care is a small owner operated tree care company that offers pruning, plant health care, and tree removal, among other listed services on their website.
6. How Joshua Tree Compares to Other
Tree Services in Allentown, PA
When comparing Joshua Tree to these other 5 services, we fall in the middle in terms of size. We're not as enormous as a national franchise like Bartlett or Monster but we're bigger than a small company like Belles.
Big Enough...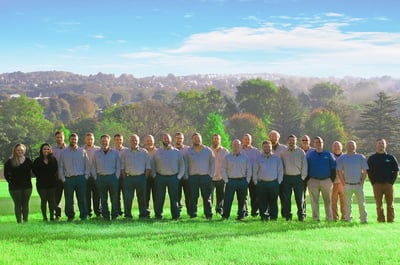 Being mid-sized gives us some advantages. For one, customers say that we're highly responsive and that's because we're big enough to have a robust office staff. If you call our office, you'll talk to someone—or at least get your call returned promptly. You won't leave a voicemail that appears to never get listened to since you're not getting a callback.
We are also well-staffed in terms of our field team. Plus, we insist upon extensive training. We have 7 ISA Certified Arborists (and more taking the test at the time this was written), which is important as an arborist is trained to actually be able to identify and diagnose problems.
When we started the company more than a decade ago, we insisted on having Certified Arborists from the start. Back then, they were few and far between. While having a Certified Arborist on staff has become more common, not every tree service insists on the same extensive training that we do. We also have 3 certified Tree Risk Assessors and a Certified Tree Care Safety Professional on staff.
But Not Too Big...
While we're big enough to employ a robust staff, we're not so big that we fail to form personal relationships with our team members or the people that we serve. We're a strong team and we also truly get to know our customers on a personal basis—which is uncommon in the tree care industry where there is often a revolving door of employees. We have employees that have been with Joshua Tree since its inception and who have had the same customers all of that time.
We also aren't part of a national franchise system which means we don't have to follow a pre-set routine on properties. That means we can truly customize our approach to tree care.
A Value-Add For You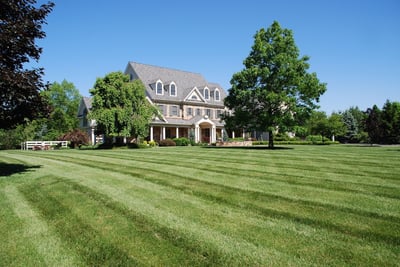 An added benefit of working with Joshua Tree that differentiates us from other tree services in Allentown, PA, is the fact that we also offer lawn care services. This division of our company grew organically from customer demand.
Clients had already come to fully trust us to handle their tree work and wanted us to handle their lawn care services, too. Since most landscapes have both trees and a lawn, this allows us to more comprehensively serve the clients we work with.
Choosing the Best Tree Care Service for You
As you look to make a decision regarding the best tree service for you, performing some research about the companies that you're considering will help you narrow down your selection. With access to information about companies online, both on their website but also through reading online reviews, you can get a better sense of what the company you're hiring will be like.
This can help you avoid those horror stories you're fretting about. By choosing a tree service that has a proven track record, you can feel confident that they won't do a poor job or make a dangerous mistake. One way to ensure this is to look for tree services with ISA Certified Arborists who can evaluate your trees and help develop a customized plan of action to meet your property's needs.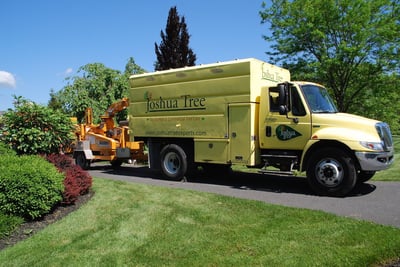 We understand that with so much advertising noise out there, it can be difficult knowing where to turn. At Joshua Tree, we want you to know that even if you don't choose our company for your tree services, that we are available to you as a resource to answer questions and provide helpful information that will guide you in making the best choices about your property. We believe that there is nothing more important than supporting the people in the Allentown, Bethlehem, and Easton, PA community which we love.
While choosing the right tree service is a big decision, we don't want you to stress. By choosing wisely, you can cast aside your worries and work on building a long-term relationship with a local company that is truly dedicated to this industry and community.
Are you ready to work with a devoted tree service in Allentown, Bethlehem, or Easton, PA? Get in touch with us to get some free expert advice and a quote for tree care services. It is our hope that your wise choice in tree services will give you the peace of mind you desire.