OUR AFFILIATIONS
Tree Care Industry Association (TCIA), Member

The Tree Care Industry Association is a public and professional resource on trees and arboriculture representing approximately 2,100 tree service and affiliated member companies. Its members recognize stringent performance standards for quality and safety. They maintain trained, professional arborists on staff and are dedicated to ethics and quality in business practices.
The TCIA Code of Ethics and best business practices include:
employing formally trained, skilled personnel
meeting industry standards for quality performance and safety
providing industry-standard written estimates
customer satisfaction, including following a dispute resolution process
carrying sufficient insurance coverage
employing certified arborists.
Certified Treecare Safety Professional (CTSP)

The industry's first safety certification program, credentialing individual arborists for safety practices and knowledge.
International Society of Arboriculture (ISA), Member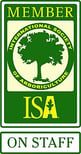 Through research, technology, and education, the International Society of Arboriculture (ISA) promotes the professional practice of arboriculture and fosters a greater worldwide awareness of the benefits of trees.